Team17 and Ghost Town Games have a new DLC on the way for Overcooked 2! this weekend, as Sun's Out Buns Out will release on July 5th, 2020. This is basically your fun in the summer kind of DLC where everything about it is aimed toward grilling in the heat and celebrating the festivities of the hottest months of the year. Even though most of us can't go outside, at least we can have a little fun with it in the game. As you might suspect, there's a new set of recipes you'll have to make in now locations on the map. There are two new chefs joining the game that are both dogs. Plus, what's that in the sky? Could it be fireworks? Yes, there will be celebrations galore in the game as well both as something to enjoy and a distraction. You can read more below and check out the latest trailer for the content as it will drop this Sunday.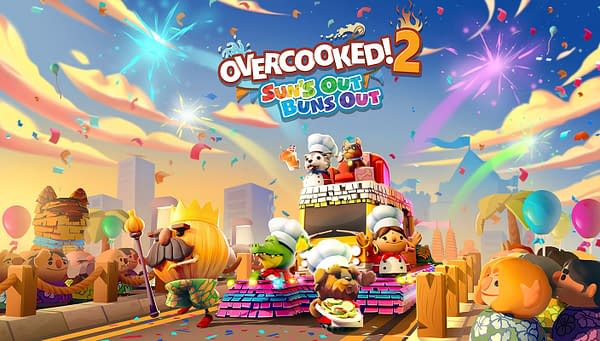 The Sun's Out Buns Out update also sees the return of Carnival of Chaos' sauce dispensers, as well as new hazards like fireworks, which might light up players' kitchens (in all the wrong ways!)

New chefs: A new pair of lovable canine chefs are ready to help (or hinder) players in the heat of the kitchen
Summer recipes: Whether it's cooling off with an ice cream float or staying healthy with a summer salad, chefs have two new dishes to rustle up
New levels: It wouldn't be summer if you didn't get to go on holiday, and Sun's Out Buns Out takes you to five new destinations
Start the party: What's better to start the summer than a parade? Expect fireworks, confetti, and floats to spice up your game
Enjoyed this article? Share it!