People Are Now Finding Tons Of Secrets In 'Sonic Mania'
You might now want to run too fast through those Sonic Mania levels, or at the very least, go back and take a closer look when you've finished the game. We completed the game ourselves for our review, but it turns out there was a lot we missed and are now taking a second look over, especially with Knuckles. Siliconera has been putting together an impressive list of all the hidden secrets and gems you can find in the game, and some of them will change your experience for the better.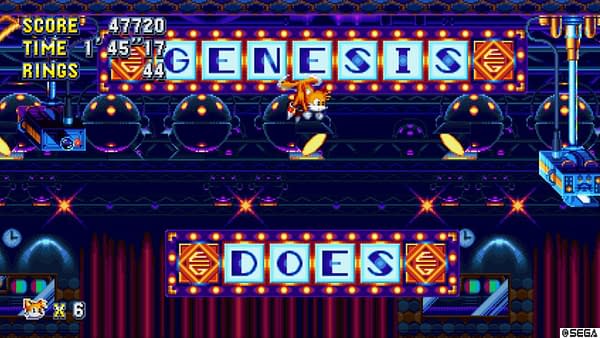 First off, there's a Debug Mode in the game that unlocks several features after you earn them in bonus stages. There are options to place items in levels to see how they work out for you and could eventually help you end every level quickly. There are a lot of cool little additions to the game that browsing it slowly with Knuckles and Tails will help you find as well, including the image above with the words "Genesis Does", a fun nod to SEGA's past with their first national campaign of "Genesis Does What Ninten-Don't." When you get a moment, take a look at the options to unlock Debug Mode and have a little fun with the game.