Earlier today, Phoenix Labs properly announced that the 1.0 update to Dauntless was launched into the servers for players to download. The game may still be technically sitting in Early Access, but with 15 million players, they're sure treating it like it's been released. Along with cross-platform support, the new update adds in the seasonal event "Aether Unbound," which features an all-new weapon, Behemoth, Hunt Pass, and Bounty System. Plus a lot more goodies to dig into. You can read more from the announcement below as well as check out pics and a new trailer.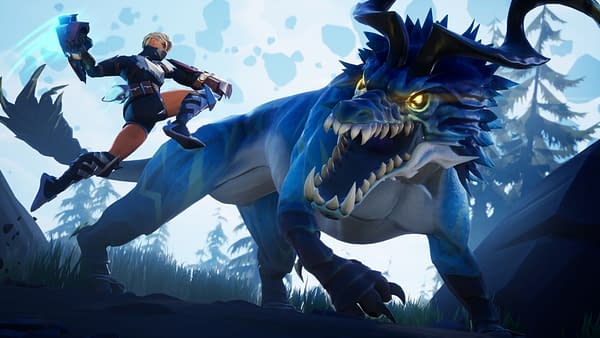 Dauntless 1.0 is a new beginning for the Behemoth-hunting game, delivering an expansive live gameplay experience that takes into account years of feedback from the game's passionate community. Dauntless will continue to grow and expand with new content and features, keeping Slayers sharp and entertained with new weapons, Behemoths, in-game events, stories and much more for years to come. Upcoming developments can be tracked on the official Dauntless roadmap.

"Today is the celebration and culmination of the past five years of the development of Dauntless, and the amazing community of Slayers that have supported the game, provided feedback and ultimately helped us craft the experience of the Shattered Isles." said Jesse Houston, Phoenix Labs CEO and Co-Founder. "As we cross the 1.0 milestone and 15 million players, we as a studio could not be more excited to set our sights on the future of Dauntless."

The next seasonal expansion, Aether Unbound, adds a powerful new way for Slayers to hunt: the aether strikers. The combo-heavy strikers transform Slayers into living weapons with the ability to unleash fast-moving attacks and powerful techniques. This update also adds the savage new Dire Behemoth, Tempestborne Stormclaw, a new Bounty system, and a Hunt Pass packed with special challenges and in-game rewards. The new Bounty system replaces weekly quests and Hunt Pass part breaks, empowering Slayers to pick and choose which bounties they are most interested in pursuing. Phoenix Labs also squashed more than 500 bugs on the road to its 1.0 launch, making this patch one of Dauntless' most polished to date.
Enjoyed this article? Share it!