Pokémon TCG Early Opening: Scarlet & Violet Booster Box
Pokémon TCG Early Opening: Let's crack open a Scarlet & Violet Booster Box and see what changes have been made as we move into a new era.
---
We are just one day away from pre-release events of the next Pokémon TCG expansion, Scarlet & Violet. This is not just a new set but, indeed, a whole new era for collectors and players alike. With Sword & Shield now wrapped after running for three years, Scarlet & Violet introduces Paldean Pokémon to the hobby for the first time, along with changes to gameplay and collectibility. Pokémon V and VMAX are out, replaced with Pokémon ex and Pokémon Tera ex. Yellow borders and set symbols are out, replaced with silver borders and set codes to better match Japan's sets. Rainbow Rares are gone, with the new Secret Rares consisting of Full Arts (yes, Full Arts are now considered Secret Rares for the first time), Illustration Rares, Special Illustration Rares, Gold cards, and more. The Pokémon Company International was kind enough to supply us with new Scarlet & Violet products so we can give you an early peek at these changes to the Pokémon TCG. These products include a Scarlet & Violet booster box, a Scarlet & Violet Elite Trainer Box, and a Scarlet & Violet Build & Battle kit. In this installment of our three-part early opening, we'll be opening the booster box.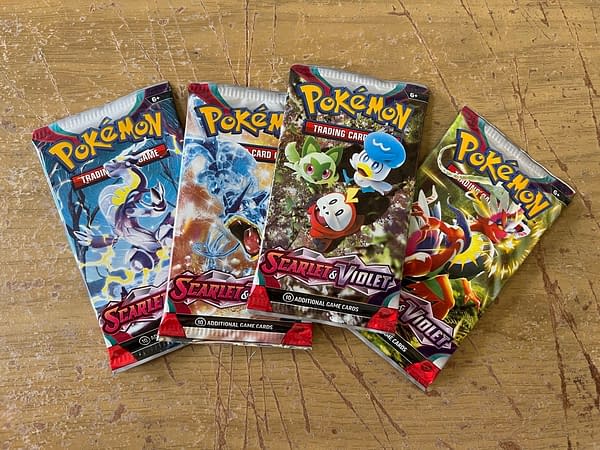 First, I'm starting each one of these openings by talking about pack structure. If you already catch one of the others, this is the same information. This is very important for collectors, though, as this is the biggest change we've ever seen to the structure of a basic pack. Each pack contains ten cards, but we are not guaranteed three holos… kind of. This is a major change from before, of course, as most packs, aside from special sets, didn't guarantee anything. The structure of a pack that people will consider to have "no hit" will end with the final three cards being a reverse holo, a second reverse holo, and a holo. Where are regular rares? Gone. Now, the hits can be found in different places. Illustration Rares will take the place of the second reverse holo. Full Arts and Pokémon ex will take the place of the holo.
There have been no changes to the structure of a booster box. We still get 36 packs so if you are a hardcore collector looking to build a binder or simply want to dig in deep, this is the way to start your Scarlet & Violet journey. Game stores will use these boxes as displays as well, so you can always pick out a pack (or ten). Me, though? I go all in on the booster box and sometimes even a case of six, because I crave that pack-ripping dopamine.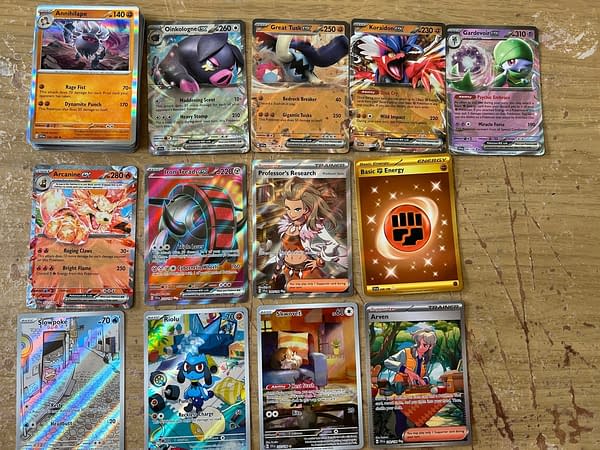 My hits included:
A veritable STACK of holos, of course, now that these are guaranteed to be the minimum hit in a pack
Pokémon ex: 4
Tera ex: 1
Full Art Pokémon: 1
Full Art Trainer: 1
Illustration Rare: 3
Special Illustration Rare: 1
Gold Secret Rare Energy: 1
This was a beautifully balanced booster box. The inclusion of Illustration Rares and Special Illustration Rares prevents us from feeling as if we were treated to a feast with the Trainer Galleries of Sword & Shield's final year only to go into a set with much fewer hits. This is the most interesting base set launch in my memory due to the dynamic art of these Illustration Rares, which function essentially as Alternate Arts, though they are officially considered a different card type.
The holofoil pattern on the ex cards is both a diagonal, shifting holo line as well as a second layer of sparkling stars. Illustration Rares have a much more shiny foil effect than both the Illustration Rares of Crown Zenith and the comparable Character Rares of previous sets.
The only bummer in these cards so far to me is that the textured foil used on hits that have textured foil feels much lighter than in the past. Full Arts haven't been as heavy as the grooved, thick cards from the XY era for a long time, but this feels now like these cards are juuuuust about textured. They still look great, but I like a bit of a depth to my etched foil for a complex foil effect.
A bit of a note here, though. The Gold Secret Rare Energy was pulled not in the rare slot but in the second reverse slot. I do not yet have confirmation if this is just happening with Gold Energy cards or indeed all types of Gold cards. I would strongly assume the former.
All in all, it was a fun booster box and a strong beginning to an immensely promising era.