Pokémon TCG Japan: Violet Ex Preview: Bombirdier Art Rare
Pokémon TCG has now released Scarlet ex and Violet ex in Japan, which features a new species from Paldea, Bombirdier, on an Art Rare.
---
It's time for a new era. Pokémon TCG Japan has released two sets that kick off Generation Nine and bring Paldean Pokémon and Trainers to the Pokémon TCG for the first time. These two sister sets are Scarlet ex and Violet ex. These sets and as well as three 60-card Starter Set ex decks will be the basis of the English-language set Scarlet & Violet base coming out internationally on March 31, 2023. Starting with these sets, English-language versions of the sets will now more closely mirror Japanese expansions, using silver borders and set codes instead of set symbols. Scarlet ex and Violet ex also see the return of the original lowercase ex card type as well as the debut of the Terastal ex card type that will replace Vs and VMAX as Ultra Rares. We also now know that Illustration Rares and Special Illustration Rares, a card type that debuted in Crown Zenith, will return with this set, with ex cards being the mechanic we'll see depicted. Today, we take a look at another Art Rare from Violet ex.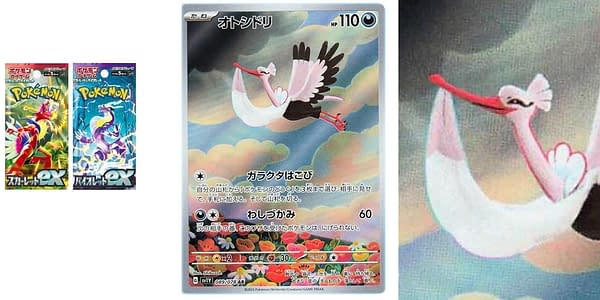 Bombirdier features on a new Art Rare in Violet ex by illustrator Shibuzoh. This new Paldean species was introduced in Scarlet & Violet as part of Generation Nine. Bombirdier is a single-stage Flying/Dark-type Pokémon. Let's get to know it by checking out its Dex entries:
It gathers things up in an apron made from shed feathers added to the Pokémon's chest feathers, then drops those things from high places for fun.

Bombirdier uses the apron on its chest to bundle up food, which it carries back to its nest. It enjoys dropping things that make loud noises.
The artist, Shibuzoh., has been contributing to the Pokémon TCG since the XY-era special set Generations. Their first-ever card featured Clefairy and, for a long time, they specialized in cute species like Marill in XY – Steam Siege, Eevee in Sun & Moon, Pikachu in Sun & Moon – Crimson Invasion, and Glameow in Sun & Moon – Ultra Prism. Recent cards from this artist include Hisuian Samurott VSTAR from Crown Zenith and Galarian Moltres V from Sword & Shield – Chilling Reign.
Japanese sets often give us early ideas of what the English-language sets may include, so be sure to keep an eye on our coverage. You can stay tuned for previews of Scarlet & Violet cards as well as updates on everything Pokémon TCG right here at Bleeding Cool.