Pokémon TCG Product Review: Opening Ice Rider Calyrex V Box
This weekend, I was able to get my hands on a Pokémon TCG: Ice Rider Calyrex V Box. Let's open it up and see if it's worth the buy.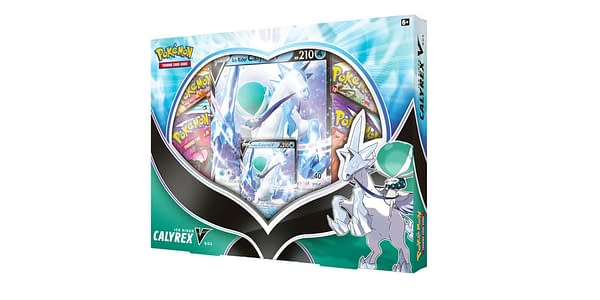 The Promos
The Ice Rider Calyrex V card in this box is an SWSH Black Star Promo. This is essentially a Chilling Reign product, with its promo very similar to the Calyrex V from the set. The artwork is slightly different, and I do prefer this one a bit to the Shadow Rider Calyrex V promo, which came out alongside of this. The blue and white colors of the card are sharp, clean, and appealing.
The booster packs included in the Shadow Rider Calyrex V Box are all modern-era packs from Sword & Shield-branded series. The four packs included are:
One pack of Sword & Shield: Rebel Clash
One pack of Sword & Shield: Darkness Ablaze
Two packs of Sword & Shield: Chilling Reign
This box includes the exact same packs as the Shadow Rider Calyrex V Box. As with that box, and the Marnie Premium Tournament Collection which also came out this weekend, I personally prefer the Pokémon TCG's standard practice of including sets from multiple eras. A Sun & Moon-era pack would have made for a more diverse array of cards here. However, there weren't really any dud sets in this box with these packs.
For the box that I opened, I pulled three regular rares and one Ultra Rare. The Ultra Rare was a Zeraora V from Chilling Reign, which isn't horrible for a box like this where there are no guaranteed pulls. It wasn't the best of boxes, though, and I always recommend that those looking to hunt for Full Arts and Secret Rares are better off with Booster Boxes than boxes like this, which have a much more random selection.
Overall
This is one of the weaker Pokémon TCG products releasing this month, but it does have a slightly better promo card than the Shadow Rider V Box. This is worth it for completionists.