MGP Studios and Solid9 Studio have just put out a new demo for their upcoming game Project Downfall for you to try out. It feels like a lot of indie games are preparing to or have already released short demos of their titles. Both for the Steam Summer Game Festival, as well as a way to get their game noticed by people without the usual conventions happening now. The game itself has been in Early Access for over a year now, with no official launch date for the finished project available. But you can play a free demo of it on Steam. Give it a shot before they eventually release it on PC, Nintendo Switch, and Xbox One. Here's some more info on the game for those of you looking for a crazy action-packed shooter that also serves as a puzzler.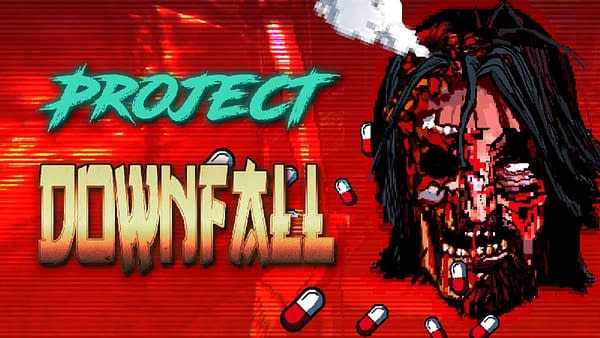 Project Downfall is a retro-style, cyberpunk, reflex-based shooter with adventure elements, where the key to successful gunplay is to use cover and your pills at the right time in any given situation. Self-medicated, low on ammo with no time to reload, and facing an enemy reloading right in front of you? Dash up to him and smack him with a self-medicated kick to send him flying. Dodge incoming bullets for a score multiplier, and rip enemies to shreds with your huge arsenal of weapons, including several different shotguns, a minigun, a berretta, a katana, and even a lead pipe.

A fast-paced shooter that will test both your reflexes and quick thinking.
A non-linear story with multiple endings, set in a cyberpunk, dystopian future that will be added during the early access development stage.
Unique and trippy retro-style visuals.
An original soundtrack that dynamically adapts to what's happening on-screen.
A combo system based on self-prescribed pills which opens a new dimension for you – a special Focus Mode that slows down the action – which is crucial to your victory in combat.
A large and varied weapons arsenal, including several different shotguns, a minigun, a berretta, a katana, and even a lead pipe.
Lots of fun ways to dispatch your foes, or "cannon fodder", if you prefer.
The Superkick! Give your opponents a quick and completely free flying lesson!
Enjoyed this article? Share it!