Texas-based collectibles auction house Heritage Auctions has an extensive collection of comics, trading cards, and memorabilia in their inventory. This includes a glut of cards from the Pokémon Trading Card Game, and yes, that does include old cards like the First Edition, Base Set printing of Charizard. However, in the olden days of the remarkably massive trading card game, there was an even bigger Holy Grail than that elusive Charizard: a promotional Kangaskhan from a small tournament in Japan: The Parent/Child Mega Battle. And Heritage has a copy of it and the auction ends on July 9th!
While by no means is this card overpowered in the context of the game, even by the standards back then, this promotional Kangaskhan is priceless in that to date only 40 of them have been certified and graded. Of the 40, thirteen of them are Grade 9 Mint (including this one), and only eleven are graded higher. By most accounts, this card is truly unique.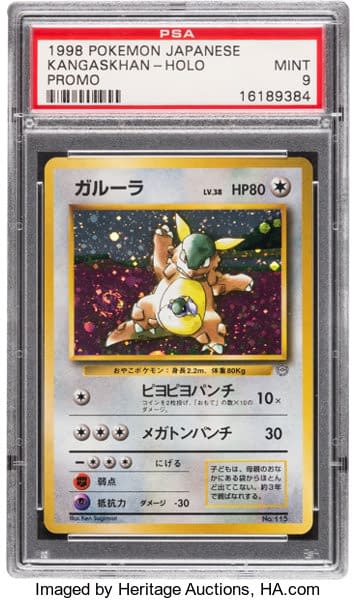 The text, translated from Japanese, reads as such:
80HP, Colorless-typePokémon

(One colorless Energy) Dizzy Punch (10x): Flip 2 coins. This attack does 10 damage times the number of heads.

(Three colorless Energy) Mega Punch (30)

Weakness: Fighting (x2)

Resistance: Psychic (-30)

Retreat Cost: Three colorless Energy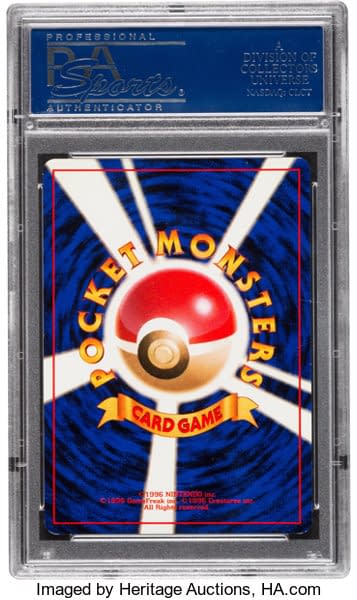 If you are interested in getting ahold of this or other such valuable pieces of Pokémon franchise history, head over to Heritage Auctions' website. You can find the link to this particular auction by clicking here. And if you are indeed planning on bidding on this exquisitely-rare card, good luck! You may need it, for it is already up to $15,500 USD at the time of this article's penning and the auction ends on July 9th.
Do you have any old or valuable Pokémon cards? What are they worth today? Let us know in the comments below!
Enjoyed this article? Share it!