Pronty Will Release On Nintendo Switch This March
Pronty, the deep-sea Metroidvania-style adventure, will be getting released for the Nintendo Switch in early March 2023.
---
Happinet Corporation, along with 18Light Games, Funzone Games, and Joy Brick Inc., announced that Pronty will be released for the Nintendo Switch next month. The game has already been out since 2021, giving you a thrilling adventure under the seas, as you take on terrors more challenging than the last in their own home. Switch players will be getting what is essentially the most complete version of the game to date, with all the patches and updates included. No real bonus content, however, with he exception of a new skin exclusive to the console. You can read and see more below before the game comes out on March 7th.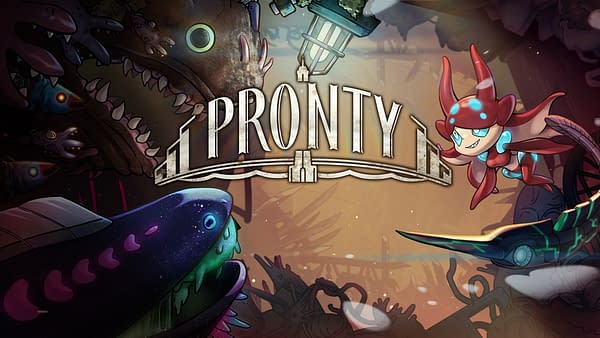 "Pronty is a 2D action-adventure game set under the ocean. In the near future, human beings have successfully found a way to live under the sea, and hundreds of aquatic cities have transformed the seabed into a new Atlantis. But now, the cities are in danger. Only Pronty, along with his weaponized robotic javelin partner, Bront can protect the City of the Deep, Royla, and unravel the mysteries that lie within."
Unique Combat System: Command your weaponized robotic javelin partner, Bront, to repel enemies, remove obstacles, and shield Pronty from harm through over 100 levels and 13 epic boss battles.
Fight Ferocious Mutant Fish Monsters: Encounter over 40 types of sea creatures formed from a ghastly fusion of sea critters and marine debris. While some might look easy to defeat, there's always a bigger fish…
Swappable Upgrades For Customized Combat: Unlock new abilities and upgrades in Pronty's Memory Board to put together strategies that work for every situation and play style.
Challenge Yourself In Boss Rush Mode: Replay to your heart's content in the boss rush mode located in Neptune's Hall and change the difficulty settings to suit your skill level.
Change Pronty's Appearance: Pronty features an exclusive to Switch New Skin, plus there are other costumes to win by defeating set parameters such as clearing Neptune Hall and unlocking a hidden ending…