Psyonix announced this week that they are finally launching the new Blueprints system that will replace the current Crates one in Rocket League. A new update will be coming in December for the game that will change the way their system works. After a match is finished, you'll have a chance to obtain a Blueprint which will drop. When you receive one it will show you exactly what item you can create from it. There is a specific price on it, and you can choose to pay and make it now or hold onto it and make it later. This takes the randomness out of the system and allows you to choose if you want to pay for it. You can read more about it here along with more info below about the update on the way. No word yet on the specific launch date for the Rocket League update.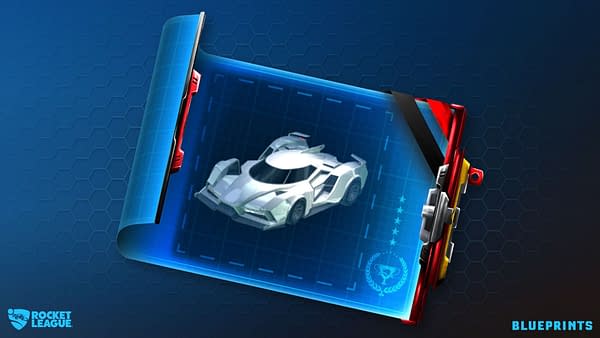 ITEM SHOP AND CREDITS

There's more than just Blueprints coming to Rocket League. In the same game update in December, we'll be introducing a new rotating Item Shop. The Item Shop will offer a wide variety of content including new items, legacy Crate content you might have missed out on, and the long-awaited debuts of items like the Titanium White Dominus. Important note: Item Shop purchases will be bound to your account and cannot be traded.

Items from Blueprints and the Item Shop will be obtained by Credits, our new premium currency replacing Keys. You'll use Credits to create items from Blueprints, upgrade to Rocket Pass Premium, and buy content from the Item Shop. Esports Tokens will be separate from Credits, and will be the only way to purchase items from the Esports Shop.

There is a lot more to reveal about the Item Shop and we will share more about it in the coming months.

THE GREAT CRATE CONVERSION

Once the new Blueprint system does go live, your Keys will automatically be converted into Credits the first time you log into Rocket League. Each remaining Crate you have will be converted into a Blueprint of the same series.

But before Blueprints go live later this year, the Vindicator Crate will come to Rocket League this Thursday, October 3. This is the final Crate and it will feature the new Sentinel Battle-Car and Neuro-Agitator Goal Explosion.
Enjoyed this article? Share it!