Rare Releases Details On Sea Of Thieves' Anniversary Update
Rare just released new details about all of the upcoming content they'll be adding to the Sea Of Thieves anniversary update coming later tonight. The company posted a new video as well as gave details on Xbox Wire about what's being added, starting with The Arena, which we have details for you below, as you'll take five crews together in search of treasure together along with a lot of mayhem along the way. A new trading post has been added to islands called the Hunter's Call, which takes exotic meats you find on the islands or fish from the sea, especially ones that have been cooked and prepared well. Plus you're getting the first set of Tall Tales additions to the game with "Shores Of Gold", which is a narrative adventure you can take with your crew complete with cutscenes and treasure to be found as you live adventures of old! The Sea Of Thieves update will kick in this evening on PC and Xbox One at the same time.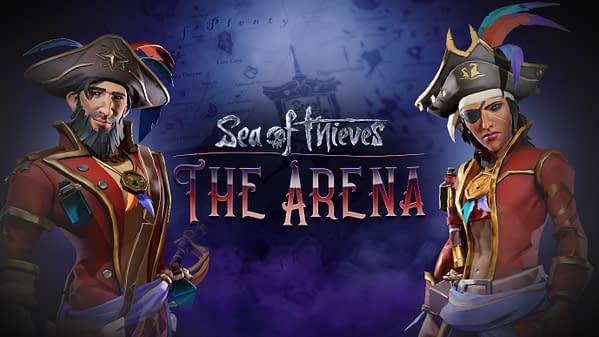 In The Arena, five crews will take command of galleons and set out in pursuit of the same buried booty. Being the crew that grabs the treasure and returns it safely to the new Sea Dogs Trading Company will earn your crew some valuable silver, but so will scoring hits against enemy vessels with cannon fire and taking out other players in combat. Now that ships can suffer damage to their wheel, masts and capstan, these sea battles will offer even more tactical depth and more opportunities for mayhem. The crew with the most silver at the end of each 24-minute bout will earn a well-deserved victory, and so The Arena is the perfect way to experience the hectic hilarity of a Sea of Thieves voyage when you only have a short time to play.

If you're exhausted after the broadsides and brawling of The Arena, there's now a brand-new way to relax and unwind courtesy of a fan-favourite feature: fishing. Yes, pirates will able to cast a line into any body of water and try their luck at catching different kinds of fish. Some species will respond to different types of bait, others can only be found in certain regions of the world and more elusive types won't show so much as a tailfin unless the conditions are right, so there'll be plenty of experimentation involved if you're looking to impress.