This week, DeNA added a brand new update to Attack On Titan Tactics, giving you a bunch of New Year's content for you to battle through. We have the full list for you below, which includes new missions, outfits, and other events you can take part in. But be quick as all of the content has a deadline to it before it goes away.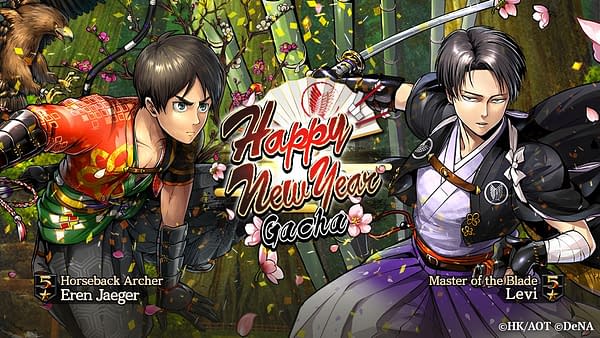 See Eren Jaeger & Levi in Traditional Japanese Outfits – The Happy New Year Gacha features [Horseback Archer] Eren Jaeger and [Master of the Blade] Levi in traditional Japanese outfits, which can only be seen in Attack on Titan Tactics. Players will have a higher chance of obtaining these units in the gacha, which will be available until January 9 9:59 PM Pacific Time.

Free 5-Star Rarity Character to Celebrate the New Year: In celebration of the new year, all players who login to the game by January 17 9:59 PM Pacific Time will receive a ticket that guarantees one 5-star rarity unit. The game will also re-visit seasonal in-game events from the past year and provide players with a second chance to recruit some of the units featured in these events, like [Midnight Messenger] Bertholdt Hoover and [Underwater Construction Team] Eren Jaeger. These units will be available in a special gacha, which will be available until January 18 9:59 PM Pacific Time.

New Year Login Bonuses & Missions: Players who log in to the game by January 8 6:59 AM Pacific Time may receive important items like Crystals, Large Experience Gems, and Skip Tickets. Players will also be able to take part in special missions until January 10 9:59 PM Pacific Time, where they can defeat Titans to earn up to 100 Crystals, 6 Rainbow Awakening Stones, and Proficiency Enhancement Materials. The amount of Deployment Power from daily missions will also be doubled until January 7 6:59 AM Pacific Time.
Enjoyed this article? Share it!