Razer Launches Their Biggest Store In Las Vegas, Nevada
Razer has announced the grand opening for their biggest storefront to date as RazerStore Las Vegas will open on Saturday, September 7th. The location is right on the strip at The LINQ Promenade, as the space will feature all the latest Razer gear available to test and purchase immediately. To celebrate, they'll be throwing a Grand Opening party featuring top streamers including MissesMae, OpTic DI3SEL, AvaGG, and Jericho. You'll also have a chance to try out Gears 5 in advance at the party before it releases the following week. Here's a few more details on what the retail space will include.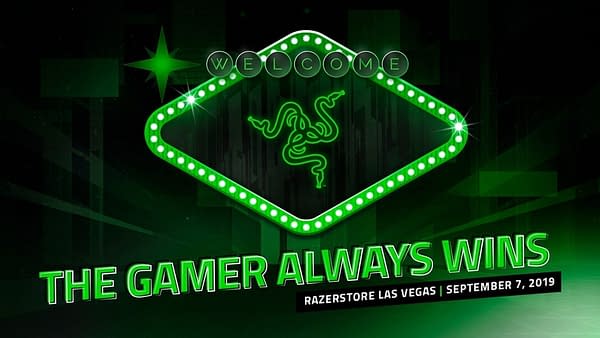 A 2,400-square-foot gaming hangout

The new brand gallery and retail store will cover about 2,400 square feet over two levels. The centerpiece is a massive 16-HD-panel-display wall broadcasting interactive live streams and tournaments in full surround sound to onlookers inside and outside.

PC gamers can set new records playing the latest blockbuster titles on the award-winning Razer Blade gaming laptops, while console gamers can compete head-to-head in fighting games on Panthera Evo arcade sticks or Wolverine controllers. Mobile gamers can also relish in their gaming prowess on the 120-Hz display-powered Razer Phone 2.

Each floor will have different experience zones, allowing gamers to explore the full richness of the Razer ecosystem during their stay. The lower level features ten battlestations capable of hosting 5v5 gaming tournaments, as well as a Quartz Pink lair decked with the fan favorite pink gaming gear, and Razer Chroma lighting solutions from Nanoleaf and Philips Hue. Here, gamers will also find a dedicated Chroma room to deep-dive into the next level of gaming immersion. On the upper level mezzanine, streamers can pop into the Razer Streaming Lounge to start off an instant live stream to their fans.