Fiber Optic & Wireless Comfort: We Review Razer's Thresher Ultimate Gaming Headset
Razer has been producing some fine gear the past few years in the headset department, but I always feel like the focus is squarely on PC and that consoles are an afterthought. So when E3 rolled around and I got a glimpse of the new Thresher Ultimate Gaming Headset, I was absolutely in love with it. The idea that I now had an option specifically for PS4 or Xbox One with PC as the secondary seemed really cool, as it put a focus on those systems while still being used for a PC audience. Today, we give these cans a proper test drive. First and foremost, being a wireless set, most everything is managed on the bottom of the headphones. On the left side, you have the power button and micro USB for charging, as well as volume control for your microphone. On the right side, you have an audio wheel to control the overall volume of the game. Both wells can be pushed in like a button to mute either audio. The power button also serves as the pairing device to the base, which we'll discuss in a moment. The microphone, as always with newer Razer designs, is off to the left side and is retractable.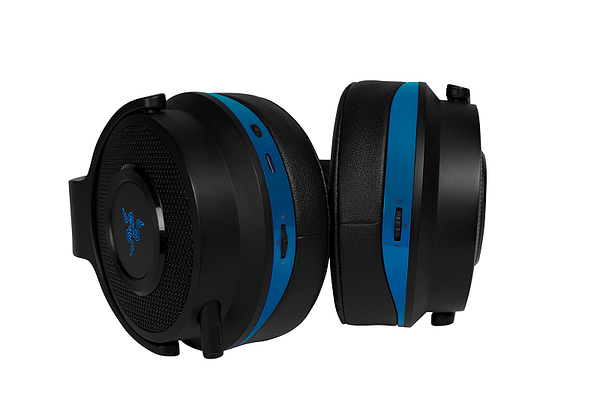 The headphones and the bar are cushioned almost the entire way around, with lovely leather earpads that cushion and feel soft to the touch so that you can wear these for hours without building up a ton of heat and sweat on your head, or feel weighted down by the design. The design itself is magnificent with 50mm drivers and all-around adjustment to fit any size head from early teenager up. It's nice to have the ability to bring the headphones down and twist the outward so they sit comfortably on your shoulders and upper chest. Audio wise, this is one of the best headphones Razer has produced. Owning and reviewing a few different sets over the past three years, I've been keen as an audiophile to test them out with games, different systems, music, even random sound effects files I have in my audio board. Everything about this headset is as crisp as it can be with directional audio that makes first-person games a blast. It works better on PC games for some reason compared to console, as I tried out DOOM on PS4 and Quake Champions on PC (both made by Bethesda), and noticed a lot better result from Quake even though DOOM was given one of the best audio setups last year. That being said, the Dolby had mixed results as sometimes I was given crystal clear audio and other times I felt like I was trapped in an echo chamber. The Dolby worked amazingly on movies and Netflix played through both, so I'm not entirely sure if the random faults lie in the system or the games. A lot more testing with newer games will need to be done.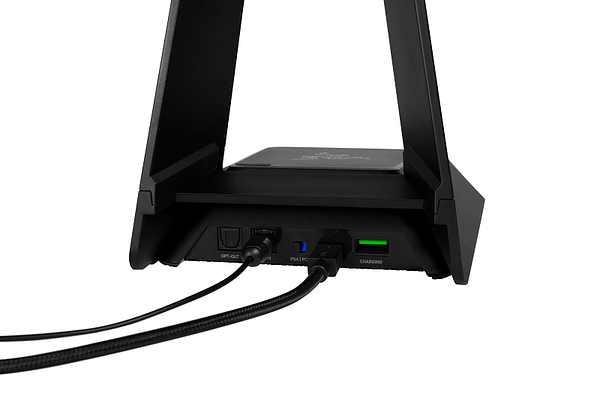 The last piece of business is the audio stand and base, which comes with every pair. The stand is there so you have a perfect mount for storage next to your console on a nearby end-table or shelf. The base serves as the all-in-one connection area, where you plug in a fiber optic cable to the back of your system for the audio, while using two micro USB ports to power it and charging the headphones. The base also comes with the Dolby audio button to touch for surround-sound audio, and a switch on the back for you change between PC and console. The one part to all this that I disliked was that I needed two USB cables. If it were up to me, I would have shrunk it down to one where I charge the headset when I'm not using it through the PS4's power supply, and then plug it into the base to power it when I'm using the headset. Having two cables felt unnecessary and cumbersome.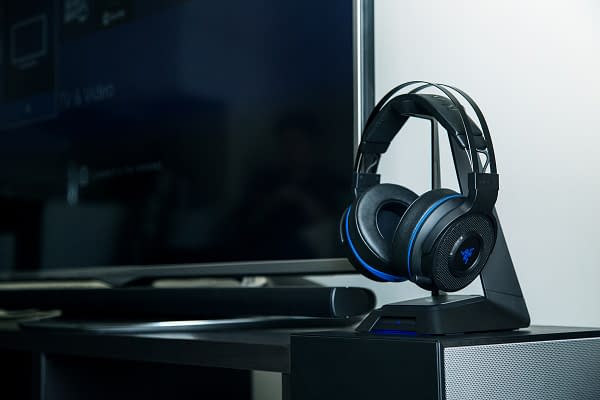 Overall, the Razer Thresher Ultimate Gaming Headset is an amazing wireless setup. Beyond the issues with the Dolby settings and the cord setup, I could not have been happier with this set. Especially to find out I could walk away up to forty feet and still get great audio before it started breaking up, so I can move around between games or levels and still be able to hear what's happening. If you want wireless you can't really go wrong with this pair.