It was originally offered as a kickstarter, which was successful, now if you didn't get in as a backer you can straight out order the new Red Sonja: Hyrkania's Legacy game in the new Previews Catalog for items shipping in April. Dynamite Entertainment and Lynnvander Studio's new game based on the "She-Devil with a Sword" allows players to participate as one of their favorite Red Sonja comic book characters, ranging from the Barbarian Osin to Red Sonja herself. These heroes will champion all that is the Hyborian good in 90 minutes, as four to six players travel across the realm of Hyrkania and face dangerous warriors, mythical beasts, and the walking souls that haunt the lands.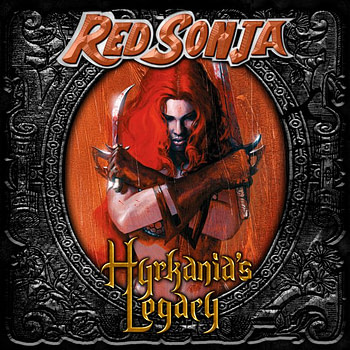 Nick Barrucci, CEO and Publisher of Dynamite said:
Our experiences with Lynnvander Studios have been outstanding, and they did an incredible job creating this game. We can't wait for the fans to see and play Red Sonja: Hyrkania's Legacy—it will provide both Red Sonja and board game fans alike with an addictive gameplay experience they'll play again and again!
An interesting factor to the game is that each character will have different stats and abilities, giving them plenty of different ways to deal with problems that are facing them. They will then face off against some of the greatest threats that Red Sonja has ever faced, forced to solve different puzzles and fight different minions to beat each of them. Each time the game is played, it will be in part randomized through he changing nature of the world, resulting in a variety of different states of the game that players will get to experience.
This new co-operative game retails for $39.99 and features artwork from Dynamite's comic book series written by Gail Simone and Marguerite Bennett, among others.