Retro Redefined: We Review Mega Man 30th Anniversary Classic Cartridges
I come from a generation of playing games made of plastic cartridges, the golden era for the NES and SNES systems when games like Mega Man ruled the world. As part of the game's 30th anniversary, as well as the release of Mega Man 11 this week, iam8bit partnered with Capcom to release a couple of limited edition classic cartridges for Mega Man 2 and Mega Man X. Both of these games were totally sealed up and made to basically sit on a shelf. So allow me to piss off several thousand geeks as we crack the plastic and review both of these.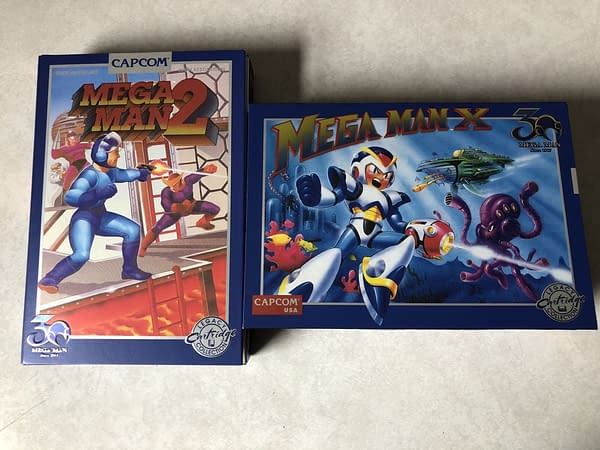 We'll start with Mega Man 2, originally released on the NES back in 1988 and one of the first commercial success sequels the console had at the time. The company went above and beyond to keep all the original assets intact, all the way down to the crappy artwork on the front that doesn't in any way really depict what the game is. A tradition for most of the series until we got to MM5. The box has some raised lettering and graphics as part of the highlights, replacing some of the logos as well with special collection ones. Some of the letterings have changed, but that's okay, we can forgive them for wanting to make this one readable.
The front of the box opens up to reveal special MM2 artwork as we see the blue bomber himself, surrounded by all of the evil robots you'll find in the game. This is a nice treat as this same artwork appears later in the box. This is a nice little touch you didn't see in many boxes back in the day and it makes it all the more special.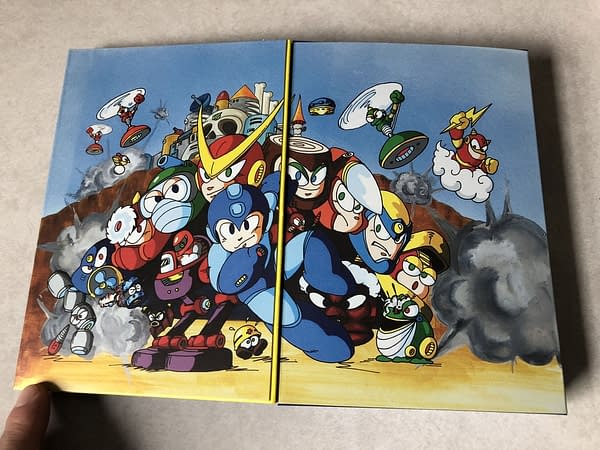 Opening up the box felt like a total throwback in many ways. They got this feeling down pact by having two posters inside with the game and a small card that used to be the warranty or fan club signup sheet. This one is a registration card with iam8bit for the game, but it's still an awesome gesture. Underneath the blue wrapping plastic, we got the game as well as an instruction booklet.
The cartridge being in all blue is cool and also feels like a special deal. Back int he day few cartridges were any color but gray. There were a couple of gold ones, but anything else was usually a third-party game that wasn't licensed by Nintendo. So this has a little bit of a fun feel to it because it feels like a game we shouldn't be putting inside an NES.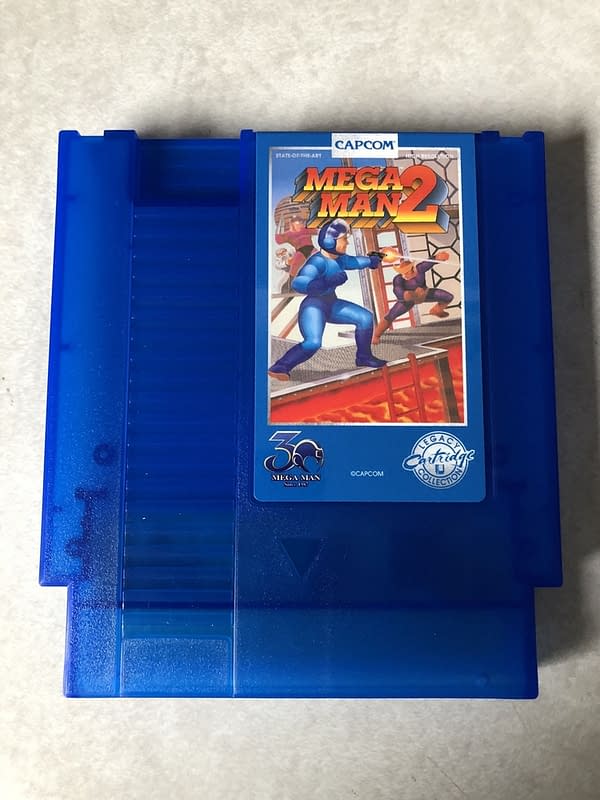 The booklet, as near as I can tell, is exactly as the original one was, complete with descriptions of enemies and tips on how to play the game. There are some additions, however, that were never in the original, such as tips on how to beat one specific boss of the first eight. (We won't spoil it.) The posters themselves are pretty cool as these are the kind of inserts I used to put up on my walls, complete with advertisements on the back trying to get me to buy upcoming titles and join special clubs.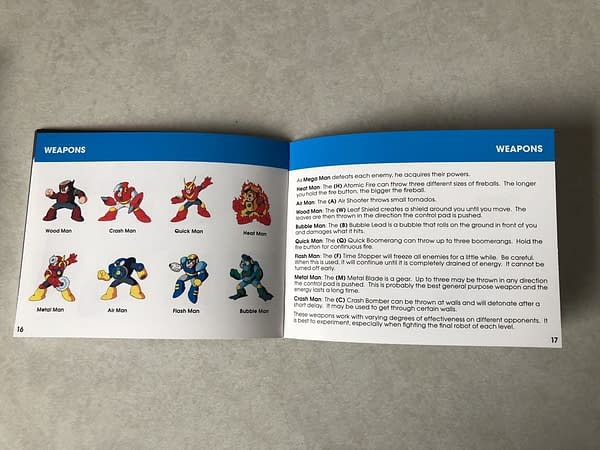 Moving along to Mega Man X, this one has a different flavor to it. SNES boxes weren't wrapped up as good as this one was. I like to think Nintendo went all out back with NES titles, but when it came to the SNES, they cheapened out as much as they could to save on the costs and produce more copies. So little things like the cardboard thickness make all the difference.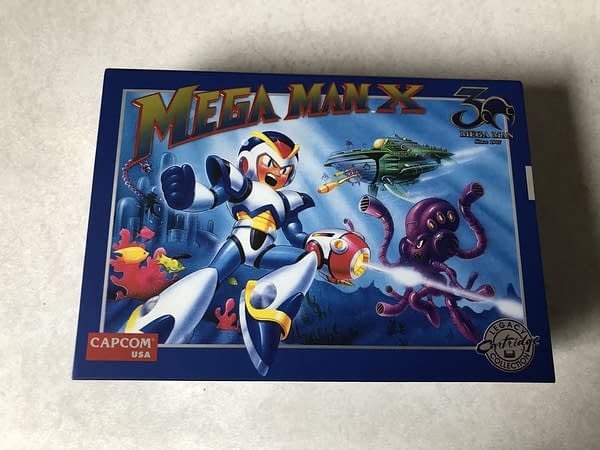 This box also opens up on the front to reveal a three-panel art design showing off Sigma on a monitor, as well as the entire cast behind X. This is a pretty cool design, but it does feel a little weird to have it unfold this way on the SNES box. Why three panels? It's cool, just confusing.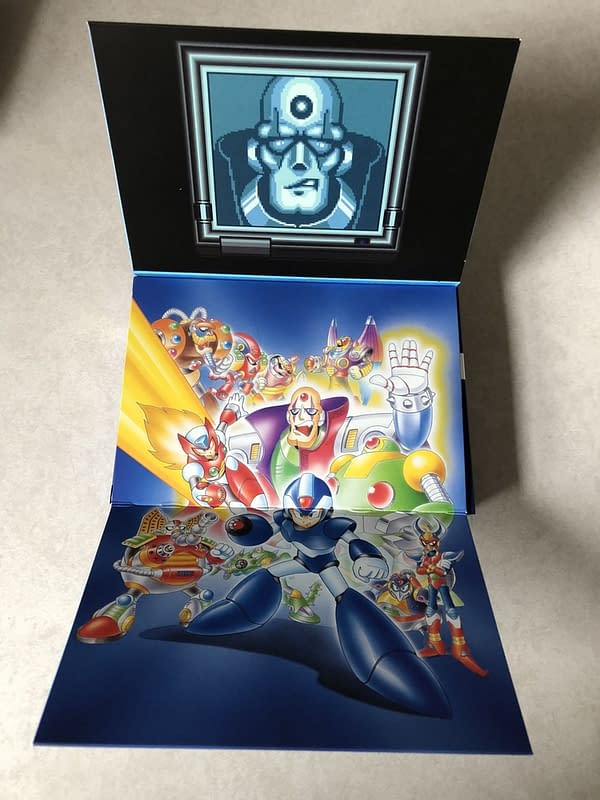 Inside we have much the same story as the NES box, but with some slight changes as the booklet is bigger and wrapped separately, sitting next to the two posters and the card. The cartridge itself is pristine as hell in white coloring with a standard SNES plastic bottom to keep the dust out. The look of this is amazing and it makes me wish this kind of design and dedication existed back in my day.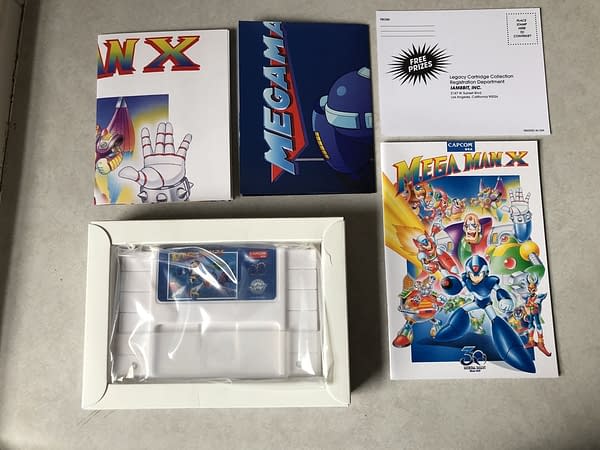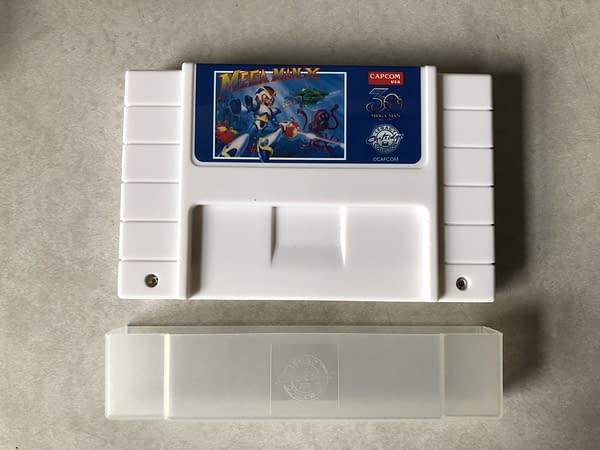 The booklets and posters look about the same as the NES version, with the obvious exception that you're looking at Mega Man X materials. I did like the choice to go with a tall poster on the SNES version as opposed to a long version. Nothing really to complain about here as they went above and beyond to make these feel like nostalgia in your hands.
As to the gameplay, yes, we stuck them into a retro console and played both for about 30 minutes a piece. Both games work perfectly fine as they are basically a perfect port of the titles. If you buy it and crack it open, you will enjoy the original as intended. If you're a collector, I guarantee you will be getting exactly what you pay for at $100 a pop. But, if I may, I'd like to offer a bit of advice. Open them and play with them. Toys are meant to be played with, not stuck up on a shelf forever. I loved opening them and playing both games, it took me back instantly to a time in my life I really enjoyed as I was growing up. If you're obsessed with these games, they're totally worth it.