Review: Thrustmaster T. Racing Scuderia Ferrari Edition Headset
It's kinda been interesting to see what new gear comes from Thrustmaster in terms of gaming materials, and we were stoked to see they're doing more headsets. The latest brand is a little surreal for us as we received the T. Racing Scuderia Ferrari Edition. That's right, the company made a partnership with one of the most famous car makers in the world to put their branding on a pair of gaming headsets. Even if you don't like Ferrari or are a gamer, let that sink in for a second, because that's a hell of an accomplishment. That'd be the U.S. equivalent of getting Ford to brand a mechanical keyboard to be built "tough". But does something with the Ferrari name hold up to the same standard? We ran these through a few tests to see for ourselves.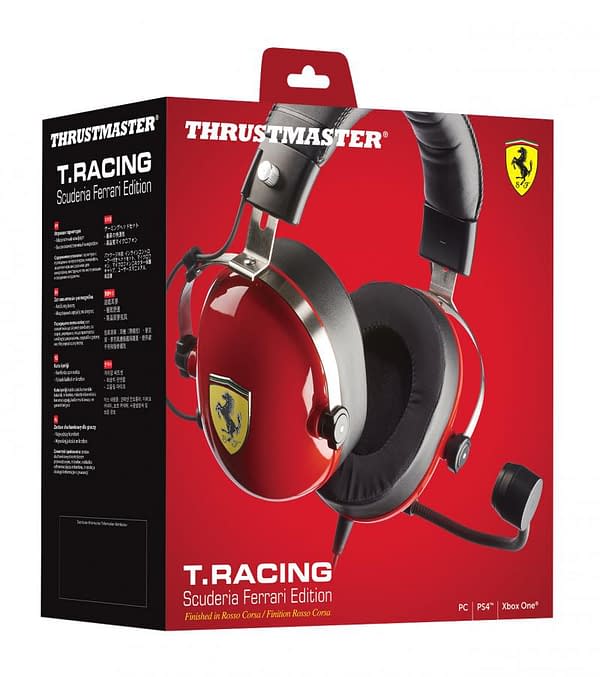 So, let's start with the structure and design since that's something both companies tend to pride themselves on. The headband is pure metal, can't find a trace of plastic in the construction of it beyond the divider between the lower end and the cushion. There's some give, but not a lot, so it will take a beating but not clear-cut destruction. The padding is fairly soft around the head and serves as a good comfort zone. It's somewhere in the middle of the amount of padding I've seen from other companies, not too much but not too little. All of it wrapped in leather for a bit of a personal touch like the inside of one of their cars.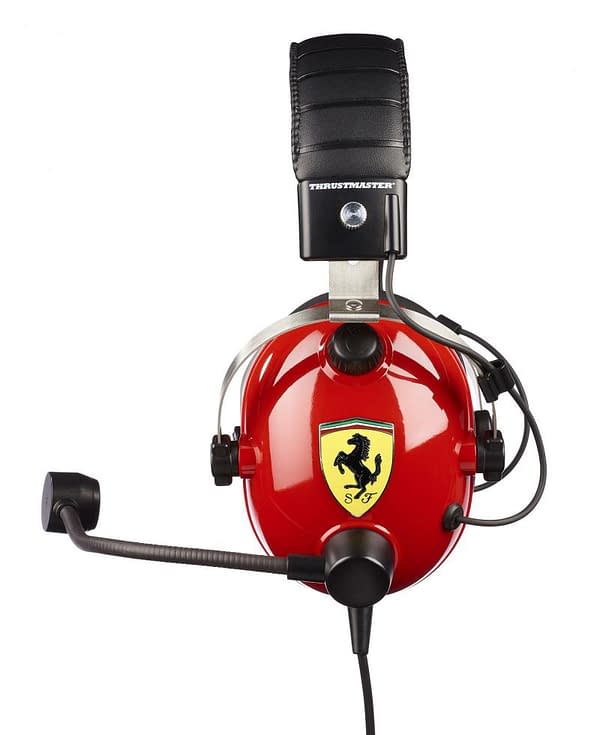 The ears are the item that stands out the most on this as you have a candy-red shell with the familiar Ferrari symbol on the sides. This part is plastic, but it was made to last as the shell is a little denser than others I've played with. Inside you have one of the best sets of cushions I've felt for your ears, which comes with a cooling gel inside so your ears don't get warmed up too quickly. I also enjoyed the fact that when it came to cooling them down, I didn't have the usual faint hint of sweat from wearing them for hours during a long gaming session. I've only had that with a couple headsets before this one, so the care that went into making sure you had some comfort for long periods of time was well appreciated.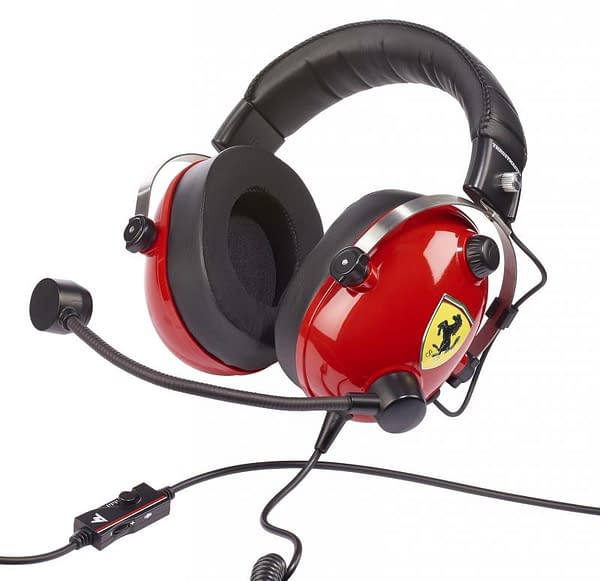 The microphone and audio options are interesting. First off, the mic is detachable, so you can treat these as a headset or just headphones. But when you attach it, it's in a fixed-crank position. Meaning there are eight different positions you can put the microphone in, but not a full spinning radius, which was awkward. The audio for the headset is controlled on the right ear, as there is a dial on the side that you turn left-to-right to adjust. For the mic, your audio controls are on the cord after a spiral design. The mute button is a switch, and as you can see from the photo above, it's an awkwardly placed switch that feels a hair too big for what it was designed for.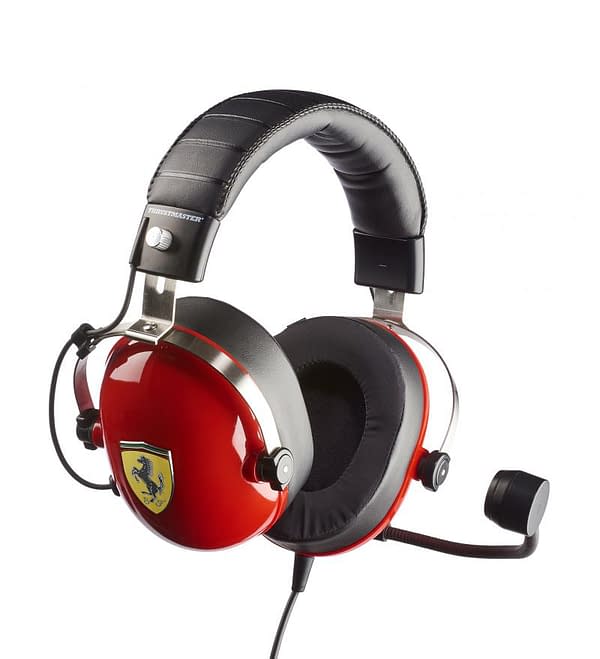 As far as the gaming audio is concerned, these work rather well. I ran them through all three major consoles and PC to test out how well it received audio, as well as functioned as a headset for multiplayer gaming. Everything worked out well, no degradation in my microphone and no issues hearing what was being said to me or any of the audio options in the game. They handle surround sound fairly well and pick up audio channels other headsets would miss out on. That being said, they don't really have anything additional to blow you away like a bass boost or heavy noise canceling beyond what the padding normally does. There's a part of me that sees these and thinks they're going to have something extra in the audio department, but they really don't. They're on par with other major brands in the field.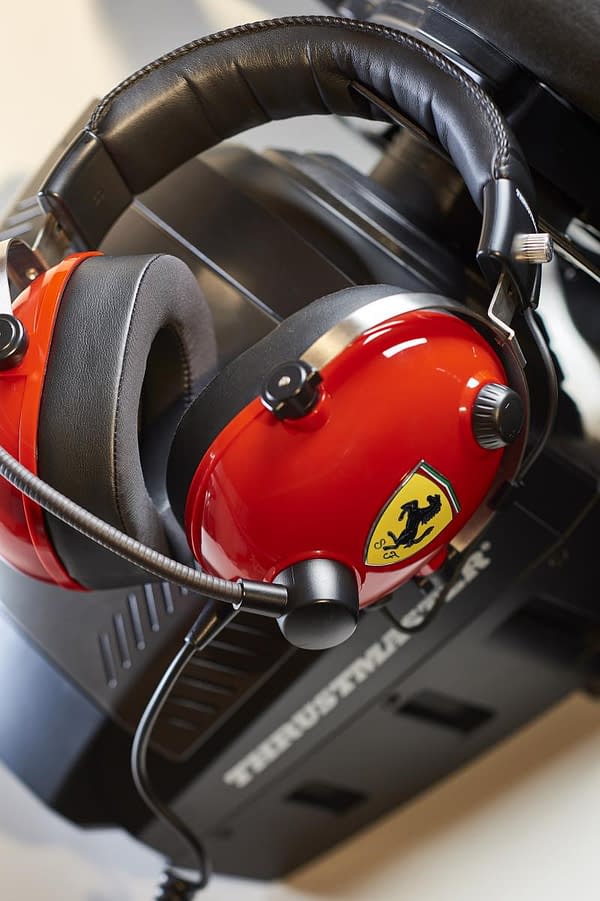 Overall, the Thrustmaster T. Racing Scuderia Ferrari Edition headset is a fine piece of gaming gear. If you're looking for a higher-end set of headphones or a headset, you can't really go wrong with this. Shockingly, the headset is only going for around $90. With the Ferrari symbol on the side, I totally expected this to go for $150 at least, but this is surprisingly affordable. More so than regular brand names people usually pay around $120 for at the same quality. I would definitely look into this headset if you're a car guy and want something awesome to go with your racing games, but it's also one I would recommend for gamers looking for a good headset on a budget who can't spend over $100 on a new pair.