Rick and Morty are invading yet another piece of media this week to promote Season Four, as this time they land in Zynga's Merge Dragons! The basic deal is that both the characters will be roaming around the puzzle game, attempting to squanch some dragons. We have a few details below on this event that appears to only be running for a day or two.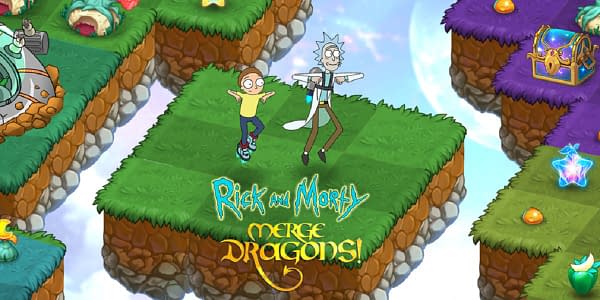 The collaboration brings Rick and Morty to Merge Dragons!'s special events that reward players for healing land and collecting points. In the game, Rick and Morty are playing Merge Dragons! and hack their way into the game to retrieve the Stone of Reckoning, a powerful item that opens portals to forbidden worlds. This causes the pair to crash-land in Dragonia, the world of Merge Dragons!, where fans can expect plenty of super-scientific mayhem to ensue.

"We love-a-wubba-dub-dub the idea of Rick and Morty joining us in Dragonia given their packed, intergalactic schedule" said Bernard Kim, President of Publishing at Zynga. "As superfans of the show, we're honored to have them interact with our players in a way that both fans of the show, and Merge Dragons!, will enjoy. Who doesn't want to see Dragon Rick evolve?!"
Enjoyed this article? Share it!