Rick And Morty Return To Merge Dragons! For Another Crossover
Apparently, Merge Dragons! can't get enough of Rick and Morty as the characters have returned for another crossover event. Zynga and Gram Games announced this week that the Adult Swim show will be diving back into their world again, which is pretty cool considering how popular it was the last time and it seems to have a lot of fans requesting they come back. The duo will be taking part in a special live event called Froopy Flight, which is currently happening and will run until July 13th, 2020. As you might suspect from the name, it involved a bit of a visit to Froopy Land, only with some of the non-PG-13 stuff removed from the content. You'll have a limited time to collect and use all of the special additions made to the game before they expire and go away for good. Well… until the next time they do a crossover. Merge Dragons! Is available to download free on the App Store for iPhone and iPad, as well as Google Play.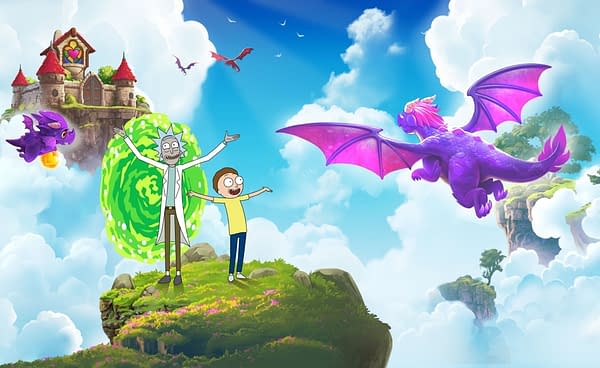 The collaboration brings Rick and Morty to Merge Dragons!'s special events that reward players for healing land and collecting points. In the game, Rick and Morty enter the strange doorway to find themselves inside Froopy Land! Rick is nonchalant and only wants to find the precious Isotope, while Morty is growing more and more suspicious. He becomes increasingly concerned about the very strange looking portal, which is definitely not one of theirs! Join their latest adventure in this wacky world.

"The continued partnership between Merge Dragons! and Adult Swim has been met with amazing reactions from fans of the game and the show." said Eren Yanik, Chief Product Officer at Gram Games. "We're incredibly proud of our team's creativity in merging both worlds and are always looking for ways to keep our players entertained."