Rightfully Beary Arms Releases New Trailer & Free Demo
Check out the latest trailer for the game Rightfully Beary Arms before heading over to Steam and playing the free demo.
---
Indie developer and publisher Daylight Basement Studio has released a brand new trailer for their new game, Rightfully Beary Arms, along with a free demo. This is a run-and-gun roguelite bullet hell game featuring the cutest and cuddliest bear dressed up in an adorable gunner spacesuit, shooting everything in sight. All with some old-school art styles that will give you some throwback feelings in the process. Right now, for a limited time, you can play a free demo on Steam that will give you a very limited version of the game but will give you the gist of what you need to do. The game will also be at PAX East this week for you to try out if you happen to be there. In the meantime, enjoy the latest trailer at the bottom.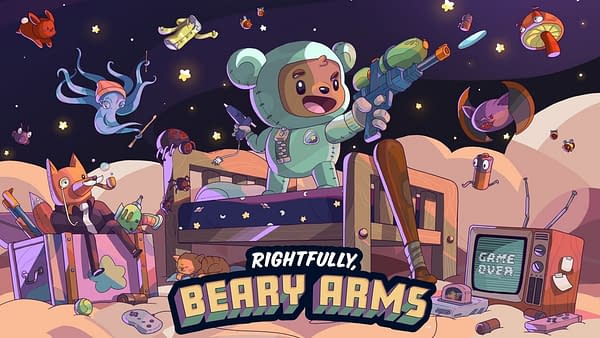 "Honey, we're home and we brought plenty of ammunition! Guide Beary, a gun-toting teddy on a mission to purge waves of wacky alien scum. Navigate the open cosmos in true dungeon-crawling fashion. Cock a weapon of choice to obliterate mobs of sneaky space spiders, pistol-wielding bumble bees, and fierce Yellow Jacket bosses, each with unique traits in this lively 2D top-down adventure. Strategically plan a path to success fursomely clearing rooms of mobs, in cute fuzzy style. Unleash a bearrage of lead and lasers, eliminating waves of aggressively quirky creatures to the beat of an original chiptune nu-metal soundtrack."
"When the dust settles, pawcure random loot drops carrying honey money, barbearic buffs, weapons, and other helpful items. As Beary grows stronger, so do his interstellar foes. Select the ways in which enemies level up, then rise to the occasion as they gain new factions, higher health, increased accuracy, and other traits to be reckoned with. Once your piggy bank is full, hit the shops to amass a destructive armory including a Mosin-Nagant bolt-action rifle, FoamBall gun, Finger gun, Catling Gun to shoot a flurry of rainbow lasers, and more."