Sea Of Thieves Celebrates Player Milestone & Third Anniversary
Microsoft and Rare revealed a couple of awesome things for Sea Of Thieves this week as the game has hit a specific milestone. The game has officially surpassed 20 Million players since it launched back in March 2018, hitting a new player record for the title. What's more, it came right in time for the game's third anniversary, which the team will be celebrating with a ton of additions for you to get in on until March 25th. Along with a thank you to the fans at the link above, here's all the information for the anniversary festivities!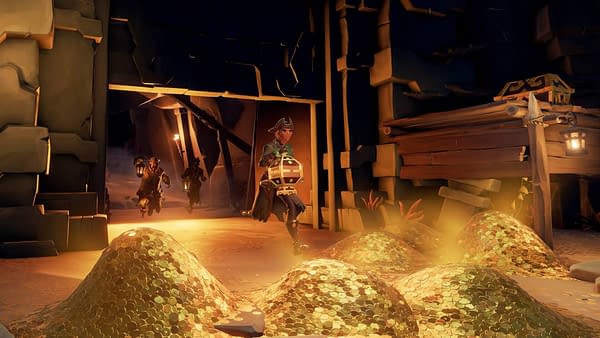 Players who log in between March 18 (10:00 UTC) and March 25 (10:00 UTC) will receive this year's anniversary gift: the Prosperous Captain's Sails. If you're an Xbox Game Pass member, you can also receive the Jump for Joy Emote by logging in between March 18 and March 21!
As part of Xbox Game Pass Ultimate Perks, members can now claim the Sea Of Thieves Ocean Crawler Bundle for free between March 18 (16:00 UTC) and June 18 (23:59 UTC).
Still need to pick up the game itself? Sea Of Thieves is on sale for its anniversary weekend – grab it at 50% off in the Microsoft Store between March 18 and March 21.
We'll be running a special Gold and Glory Weekend from March 19 (00:00 UTC) to March 22 (23:59 UTC), where you can not only earn double the gold and Trading Company reputation but extra Seasonal Renown too!
Grab the final set of Season One Twitch Drops by tuning in to any of our Sea Of Thieves Partners between March 19 and March 23. You can pick up the remaining Gilded Phoenix equipment as well as the all-new Hornpipe Dance Emote to dance a merry jig.
If you want to dive into the backstories of some of Sea Of Thieves' main characters, the first free issue of our latest Sea Of Thieves Origins comic miniseries is available on comiXology now – focusing on the exploits of Sir Arthur Pendragon as he forges his name as the Champion of Souls.
Our final update to Season One also goes live today, teeing up a brand new Vault Raiders Event (starting March 25) and introducing new wonders to the Pirate Emporium including a free ROFL Emote and this weekend's grand anniversary Emporium sale!