Sea Of Thieves Introduces Cargo Runs for Merchant Alliance Fans
The folks have Sea Of Thieves have introduced a new element to the game with Cargo Runs for those who love working for the Merchant Alliance. Well, let's be honest, no one "loves" working for them, but you need to do stuff with them to level up that portion of your legendary status. We have some details for you below of how it will run, per their announcement, as well as a trailer from Rare about the latest addition to Sea Of Thieves.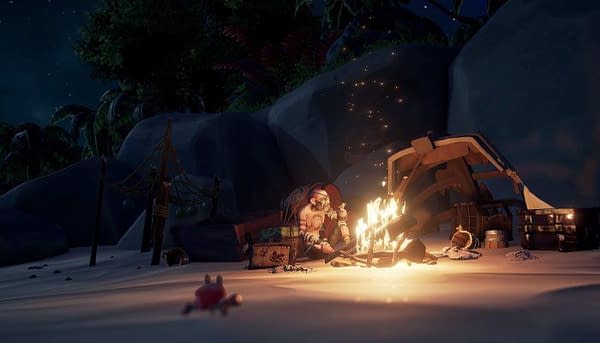 You'll find that Cargo Runs differ from the usual voyages in a number of ways:

• Once you have your cargo you can undertake Cargo Runs alongside other active voyages, allowing you to double up on your delivery efforts.

• You're provided with the specific goods to transport, resulting in less time spent scouring islands to fulfil a quota.

• Certain factors play into the rewards you get for completing a Cargo Run. Each one is timed, so your payout will take a hit if you arrive late. Merchants also expect the goods to be delivered intact, so turning up with broken rum bottles, valuable cloth ruined by water damage or exotic plants that died of thirst along the way is not quite so good for your pocket.

The other new features of Forsaken Shores play a role in Cargo Runs too: rowboats make all the difference in transporting goods to and from your ship, while goods sourced in The Devil's Roar are, like everything else about that restless region, a little bit harder to handle.