Sea Of Thieves Is Getting a Tabletop Version by Mongoose Publishing
Mongoose Publishing has announced today that they will soon be publishing a tabletop board game version of the 2018 video game Sea Of Thieves. The game aims to bring all the excitement, adventure, and challenges of the game to your table and tries to leave out all the pesky trolls who are just shooting down ships for fun. The game will include a Book of Pirates, a Lord of the Sea Tome, a Book of Voyages, a Poster Map, some Pirate Ledgers Cards, a set of Legendary Dice, Supply Tokens, Weapons Cards and Quest Cards, and the Lord Guardian Sails download for the video game. What's more, the price isn't too shabby at around $30. Here's a few extra details on the game as it will ship out around October 2019.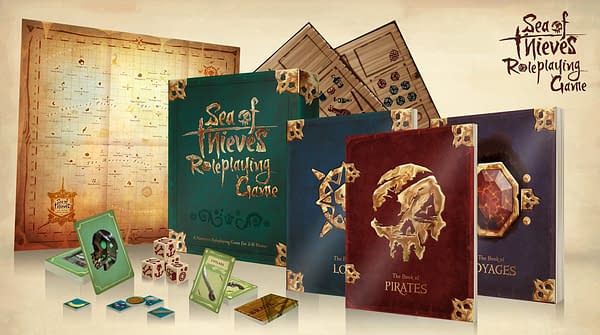 The rules are designed for quick, immersive roleplaying that favours action, problem-solving and above all, fun! Cracking open the box set, you will be playing in minutes with a voyage designed to teach both Gamesmaster and new pirates the rules as they enter the Sea of Thieves for the first time and encounter the challenges to be found there. Once this voyage is complete, the pirates will have their own ship and be free to set sail and discover new adventures. There is plenty to do on the Sea of Thieves – from assaulting skeleton forts and discovering long lost secrets in the caves of tropical islands, to battling vicious storms and escaping from the dreaded Kraken, this is the only roleplaying game where you can be more pirate!