"Sea Of Thieves" Receives It's Latest Adventure In "The Seabound Soul"
Sea Of Thieves just got a new content update from Rare today, giving players the next grand adventure with The Seabound Soul. This one features a brand-new Tall Tale for players to experience. They'll set sail on a quest to uncover the mystery of the legendary Captain Pendragon and his ship, the Blackwyche. One of the biggest additions to this update is the long-requested Fire attack. What does that mean? It means you can now set ships on fire and use it as a disruption! Players can also find firebombs across the world, which can be shot from cannons to catch enemy ships ablaze, possibly sinking them and killing the crew without even putting a hole in the side. Here's a little more info from Sea Of Thieves along with the trailer.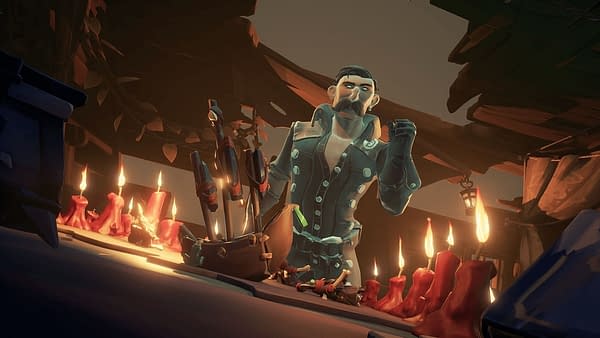 Many pirates have come across the wreck of the Blackwyche, ship of the legendary Sir Arthur Pendragon, out on Shipwreck Bay. However, now pirates are reporting sightings of the man himself, returned from beyond the veil for some perilous purpose! Pendragon was an aristocratic adventurer who both dispatched and saved many lost souls, using his enchanted blade to send them onto their final rest. What mission could he have on the Sea of Thieves during such a turbulent time? Pirates who wish to pursue this Tall Tale simply need to find the quest book on his old ship to find out!