Secretlab Launches New Collaboration With Esports Team OG
This morning, Secretlab announced a brand new collaboration for a gaming chair, this time with two-time Dota 2 The International champs OG. As you can see below, the "Dream OG" chair comes with the team's official logo and branding, not to mention their team colors. Plus, as an added bonus, the right shoulder has two embroidered Aegis symbols of their back-to-back victories. The new chairs, which come in both the Omega and Titan 2020 lines, will be featured with the Dota 2 team moving forward, as well as their new CS:GO teams. Here's what both companies had to say on the new chair collaboration.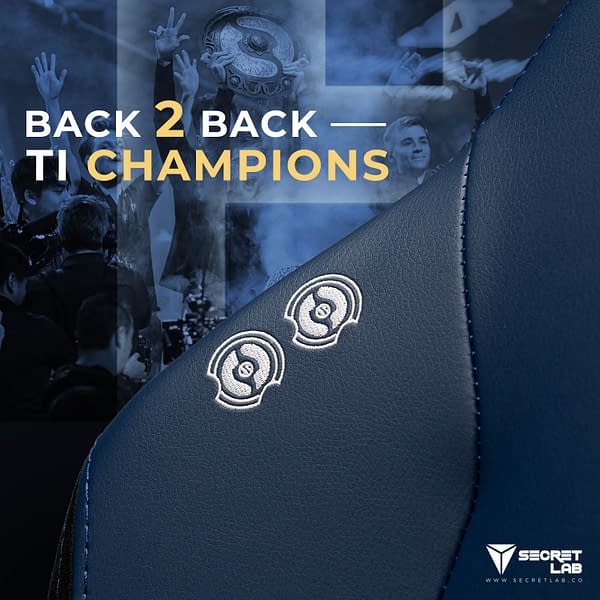 "OG are esports' biggest historymakers—winning unprecedented back-to-back The International world championships as well as being the youngest esports team to achieve such massive success," said Ian Alexander Ang, co-founder and CEO of Secretlab. "These stemmed from how their team, assembled right before TI8, has fought to stay together, especially when most teams reshuffle each year. This forged an unrivaled bond and commitment among the players that is so rarely seen in esports today. This is also what transformed an unexpected team of individuals into a superstar team—inspiring millions of gamers worldwide and represent everything that Secretlab stands for. With our goal to make esports athletes better, we're proud to support OG, elevate their performances with our award-winning chairs, and further help them create history."

"Secretlab, as a gaming product leader, has always been at the forefront in helping gamers perform better," said Johan "N0tail" Sundstein, CEO and Captain of OG. "This is most evident in how they've put their heart and soul into creating their high-performance gaming seats, so every gamer will be able to play at their best and fully enjoy their gaming experience. This resonates deeply with us at OG, and that's what makes Secretlab the perfect partner. With our players all outfitted with the best equipment, and we see our new award-winning Secretlab chairs as an integral member of our team. We're confident this partnership will take our entire organization—including our OG Seed and CS:GO rosters—to the next level."