Seven Knights 2 Announces New Hero & Valentine'ss Day Events
A brand new update has landed in Seven Knights 2 as players can get in on a Valentine's Day event and a new character.
---
Netmarble revealed new details for an update coming to Seven Knights 2, as the game is getting a new hero and more on top of a Valentine's Day event. The all-new global update for the mobile RPG will bring about a new Legendary+ hero by the name of Reaper Of The Abyss Dellons, some brand new scenario content, a new pet dispatch system, several new costumes, and a Valentine's Day running all the way until February 15th in the game as we speak. We have more info and trailers below on the content as you can download it right now on Google Play, App Store, and the beta version for PC.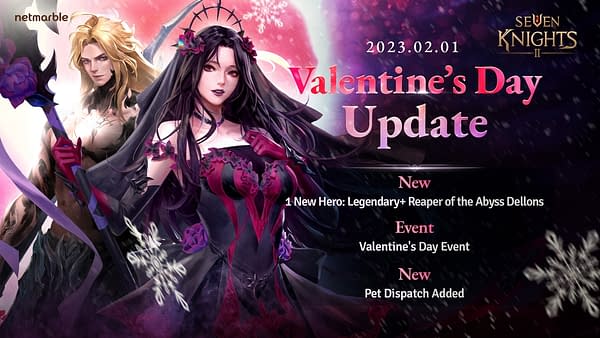 "Players can now choose the new hero Dellons, the Reaper of the Abyss (Legendary+ / Attack type), who is designed to deal massive damage to a single target. His special abilities can synergize well with other Attack type heroes. Dellons gets stronger as he continues to attack each enemy with a stacking debuff, making him the perfect hero to take down specific targets. Additional new game content includes the Scenario Season 3 update that will continue the story of Lene and her party who are trying to stop those who threaten the peace on the continent of Asgar after the devastation of the war in the Kingdom of Terra. A Pet Dispatch System has been added as a new way to utilize pets. Players can dispatch their pets on various missions, earning special rewards upon completion."
"Four new Seven Knights 2 costumes are now available, including two skins for the new hero Dellons, Darkness Wedding Karin (exclusive for Valentine's Day), and Victory Outfit Karin. From February 1 through February 15, players can enter the new Valentine's Day Event to earn the Chocolate of the Abyss and exchange them for various items, including a costume for the new hero Dellons. Additionally, The Victory Outfit Conqueror Mission invites players to enter the Arena and obtain the Victory Outfit costume for Karin (event exclusive) by completing the Prestige Mission."