Posted in: Games, Renegade Game Studios, Tabletop | Tagged: g.i. joe, Renegade Game Studios, rpg, tabeltop
---
Sgt. Slaughter Has Arrived For The G.I. Joe Roleplaying Game
Ten Hut! Sgt. Slaughter has come to whip you maggots into shape with new expansions for the G.I. Joe Roleplaying Game.
---
LISTEN UP, MAGGOTS! Sgt. Slaughter has officially made his way to the G.I. Joe Roleplaying Game, as Renegade Game Studios revealed new expansions. The iconic professional wrestler and All-American hero (except for that one time in the '90s for a story we don't talk about) is here to make an impact in the game with his fellow soldiers. First off, the Mission Critical version of the game has two new additions you can add to the mix, as Sarge has his own pack, as well as a Chaos Break Expansion that are both available for pre-order. Meanwhile, for those of you playing the main version of the game, Slaughter is getting his own limited-edition pack, complete with his own figure for you to use in the game. We got the details of all three below as they are now up for pre-order, set to be released this July.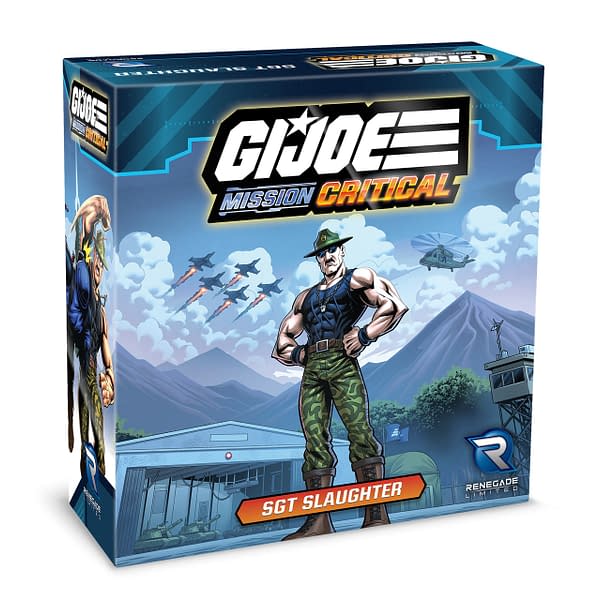 Sgt Slaughter, reporting for duty! The famous Drill Sergeant is ready to slam Cobra into the ground and make your squad the best it can be! (This is an expansion. G.I JOE Mission Critical is required to play.)
Features:
Special Hero Figure expansion!
Add Sgt Slaughter's signature vehicle, the Triple T, to your team's arsenal!
Unique combat cards to help drive Cobra into submission or whip your team into a fine fighting force!
Renegade Limited!
Contents Summary:
1 Hero Figure
1 Vehicle Card
10 Combat Cards
1 Rule Sheet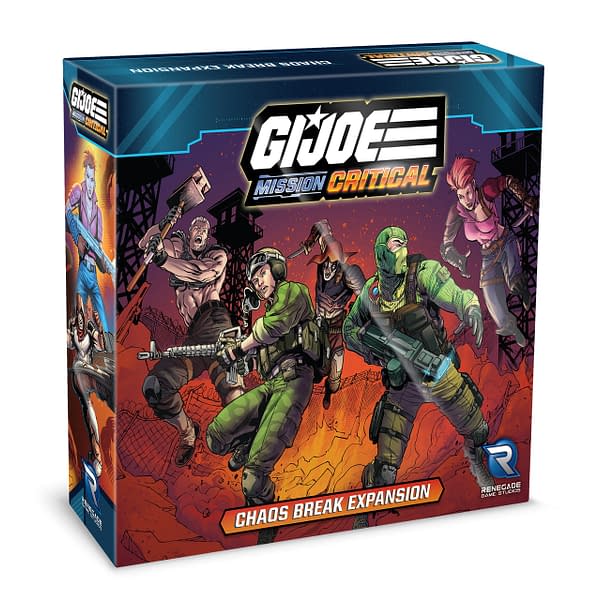 Chaos has arrived! The Dreadnoks, led by Cobra agent Zartan, are an outlaw biker gang devoted to spreading anarchy and panic before quietly slipping away. Zartan's lieutenants, Zarana and Road Pig, are masters at sowing destruction – they will be formidable foes to bring to justice! Thankfully, G.I. Joe has called in reinforcements! The elite ranger Beach Head and the expert paratrooper Ripcord have been deployed to stop Zartan before he leaves the world in ruins. (This is an expansion. G.I JOE Mission Critical is required to play.)
Features:
Play as new Heroes – Beach Head and Ripcord!
Introduces a new boss – Zartan!
2 new lieutenants – Zarana & Road Pig
2 new vehicles!
Contents Summary:
20 Hero Combat Cards
16 Lieutenant Combat Cards
2 Lieutenant Deployment Cards
8 Boss Combat Cards
1 Boss Deployment Card
2 Hero Cards (Tarot-sized)
2 Vehicles Cards (Tarot-sized)
2 Hero Miniatures (Beach Head & Ripcord)
2 Lieutenant Miniatures (Zarana & Roadpig)
1 Boss Miniature (Zartan)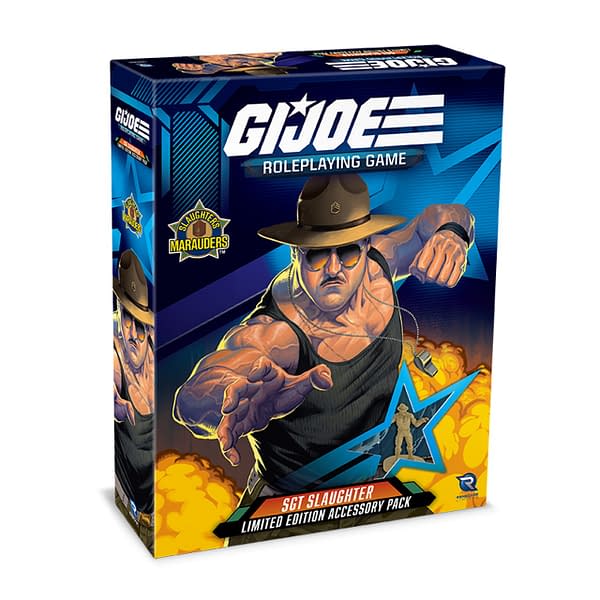 Look alive, Joes! The toughest drill sergeant is here to whip you into shape: none other than Sgt Slaughter! Cobra won't stand a chance against Sgt Slaughter, the famous Triple T, and Slaughter's Marauders! Provides everything you need to portray Sgt Slaughter and Slaughter's Marauders in your G.I. Joe Roleplaying Game! (Requires the G.I. JOE Roleplaying Game to play.)
Character options for making your own drill instructor character or a member of Slaughter's Marauders
Stats for making and playing as Sgt Slaughter and his Marauders.
28mm-scale Sgt Slaughter paintable miniature
An adventure that lets your G.I. Joe characters join Slaughter's Marauders
Standees and tactical maps representing scenes in the scenario.
Contents:
1 Sgt Slaughter Sourcebook
1 Marauders Versus the Slaughter Monster adventure book
1 Sgt Slaughter miniature (28mm scale)
Character and vehicle tokens
14 plastic stands
3 double-sided map tiles
---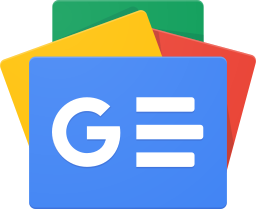 Stay up-to-date and support the site by following Bleeding Cool on Google News today!