Someone Is Making A Seinfeld Adventure Video Game
In case you've ever wanted to play a video game about nothing, you're in luck as someone is making one about Seinfeld. In what looks like a video we would have watched on College Humor or Cracked ages ago, a trailer started making the rounds yesterday showing the iconic NBC sitcom as a video game. Many thought it was a joke until you get to the end of the video and realize that it is, in fact, the real deal. Game developer Jacob Janerka and animator Ivan Dixon are both avid fans of the show, and have decided to put their talents together to make Seinfeld Adventure. The pair made a pretty convincing trailer for it, which you can watch below. Basically, they want to take the rich world of Seinfeld and make an old-school adventure game out of it where your decisions affect what happens to the characters and the plot. They've made a soft pitch on their website to have adventures divided up like episodes of the show. The big problem, as you might suspect, is getting permission to use the rights, which they don't own. Hopefully, public support will get the right person to sign off on it, if for nothing else than to see this made.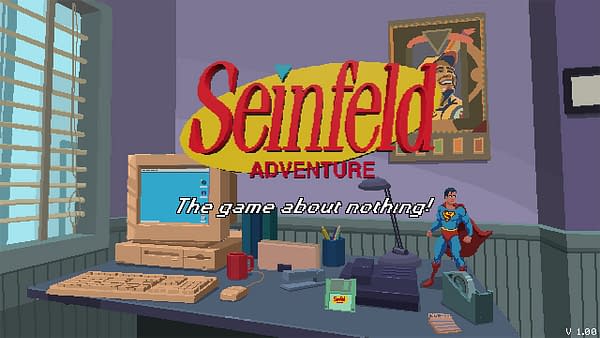 "You may be thinking, "You idiots, why would you make a game based on a sitcom that last aired over 20 years ago and potentially incur the wrath of lawyers like Reddit user Dingdongs313 warned you about?" But yes, OK, actual lawyers also warned us to not touch it. (Although some of you may also suggest it's worth us taking the risk of huge financial debt as long as you get to play the game.) Turns out Seinfeld is actually still an incredibly relevant show whose relatability is timeless, with the show's streaming rights bought by Netflix recently for half a billion dollars. We want to do this the official way. However, we believe that pitching to the internet will show the demand for such a game, which will provide a better chance of this becoming a thing than us just sending a cold email. We want our email to be warm, if that makes any sense."