This morning, Square Enix treated players to a brand new video for their upcoming game Outriders, showing off more gameplay. Along with developer People Can Fly, this first video shows off a demo for the first major city you explore on the new planet. As you may recall from our report back in February, you're part of a colony of people from Earth trying to find a new place to live. You come across a planet thinking it will be a paradise, but a strange property on the land changes everything, including your existence. Now you have to find a way to survive in a world you left behind ages ago in cryogenic sleep. Enjoy the video below as we wait for the game to be released sometime this holiday season.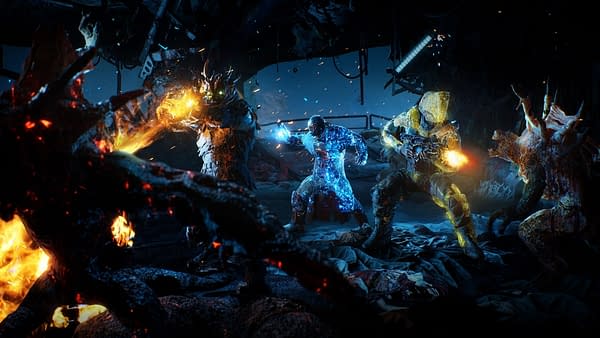 Set in an all-new, dark sci-fi world, Outriders is a true genre hybrid that combines the depth and story of an RPG and the intensity of third-person shooter combat with awe-inspiring powers. Deep character progression and itemization allow for a wide variety of creative class builds, and evolve People Can Fly's trademark over-the-top, skill-based gameplay to create a brutal RPG-shooter experience.

"We are making the game we always wanted to play. The team at PCF are all gamers and we love shooters. Shooters are in our DNA and we have been making them for decades. At the same time, we also love RPG's," said Bartek Kmita, Creative Director of Outriders at People Can Fly. "We always wanted to play a deep RPG, with an epic story and the flexibility to create lots of interesting character builds, but we also wanted a skill-based, challenging and intense real-time combat system in our RPG. When the opportunity to create it ourselves came along, it was like a dream come true."
Enjoyed this article? Share it!