Earlier this month, Square Enix gave us a chance to go try out their next game on the way from People Can Fly called Outriders. The devs took the time to introduce us to the game and allowed us to play a little bit of it. The storyline for the game is that humanity finally screwed over Earth with so much pollution and waste and war that we finally decided to get off this rock. Thousands of people zoomed across the galaxy in search of a new planet to call home. They found one that looked idea and sent down teams to assess the place. Unfortunately, the planet has a few mysteries about it that caused it to become too chaotic to land on. We'll keep things spoiler-free for part of it, but the shorthand is that you end up with some newfound powers and abilities after everything goes to hell all over again. Now it's up to you to clean it up and find some kind of peace while also finding out what's causing the planet to act the way it does.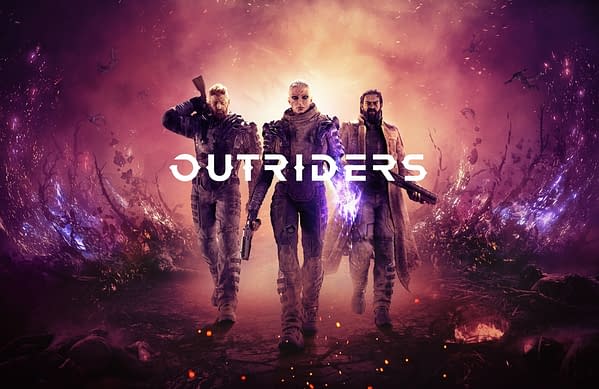 We went through the main prologue of the story which does in about 20 minutes what many games can't accomplish in 2 hours. Tell a story, explain what's happening, give you the low-down of how everything got to where it is and has now thrown you into the middle of it. The game is a combination of RPG and FPS, which made way for a few different experiences as it felt like Destiny 2. Only this one felt simplified and easier to navigate in many ways. After getting through the tutorial and discovering who we are as a character, we were able to jump into a match with two more players and play the main campaign. The campaign itself was a lot of fun as there is the main path for you to take, but there are also branches from the main path that lead to side stories and better equipment.
As you make your way through the game, you will level up and be given skill trees in which you can make your character more dynamic. You have three different choices in front of you as you can be a pyromancer, a trickster, or a devastator. Essentially, a DPS character, a long-ranger, and a tank. Just with different names. If you get the right combination of people you can do some quick damage in a hurry. I will say it's fun to have multiple people with the same ability, but it makes certain aspects of the game drag out longer than you would think. We eventually had a boss fight against someone who is basically Electro from Spider-Man, as we fought him off on a giant tower where he could electrify us at any time.
I enjoyed my time with Outriders. It has a LOT of potential, a lot of ways for players to get involved at different levels and become a team. The story is engaging, even with some of the pieces being a little over-the-top. But the core of the game relies on the RPG aspect allowing you to do more things and make sure the FPS aspects of the game don't become repetitive or boring. I look forward to seeing more from the game down the road.