'Stage Presence' Makes You A Rock Star At The Worst Moment Possible
[rwp-review-recap id="0"]
DEVELOPER: tinyBuild Games
REVIEW PLATFORM: Steam
RELEASED: 2/28/17
Have you ever been to a big concert where some band was absolutely kicking ass and then, for no real reason anyone can explain, they end up with technical issues? It feels like an eternity when a mic goes out or a guitar string breaks or a speaker is blown. And then you're left with the awkward moment of listening to the bass player throw down a beat as they stall with a funky version of Aerosmith's "Sweet Emotion." All of that has been encapsulated into a brand new game from tinyBuild called Stage Presence.
The premise is pretty simple. Something goes awry while you're on stage, and it's up to you to fill the void until they're able to repair whatever is busted behind you. The game uses your microphone to perform improv karaoke of whatever the hell you feel like singing for an allotted amount of time. You'll see signage in front of you indicating how the crowd is feeling, how you're doing and what you should do in order to keep them happy until the band can get back to rocking out.
Stage Presence puts you in a first-person view of the crowd, and beyond the ability to move your mouse and play with objects you can purchase, the game is mostly just you singing into a microphone. I myself tried out several versions of what constitutes singing to see what the game would accept. I started by singing some songs I knew and loved, then I moved onto spoken word poetry, then I read one of my stories off Bleeding Cool from last week, then I simply ran down the names of friends I hadn't seen in a while. After every round I got some cash and a success meter telling me how I did and what level I was now at.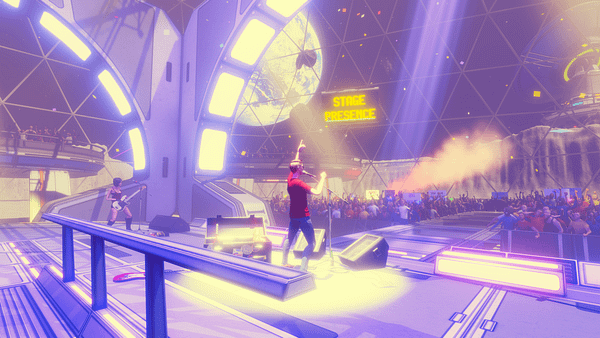 No matter what the hell was said, the game took it as a "song," which is kinda funny but a flaw in the mechanics. If I picked up an old-school phone book and read the names off in order, this game would take it as a song. Sure, it can make for great comedy with a group of friends, but at some point the game should know I'm not singing and penalize me for it. Not so much the case here, and I was able to clear almost every round with a 100% score. The next time I have a thought on my mind and I need to get it off my chest, I know where to put it to good use.
As mention before, you earn money after every round, giving you the chance to buy props to wear and use on stage to entertain the crowd. Every time you level up, you are given access to new gear you can buy. Some of it can be used repeatedly like a glow stick, other times the item will need to be replaced, like a guitar you can smash. The goal of the game is to unlock every level on every difficulty, including time trials, and become the ultimate go-to rocker when trouble hits. There's a multiplayer option that allows others to join the crowd and encourage you on, or just heckle the hell out of you until you quit. There's also a Twitch function where the viewers can give you lyrics to sing through chat and also take part in the crowd, which gives the game some awesome interactive features.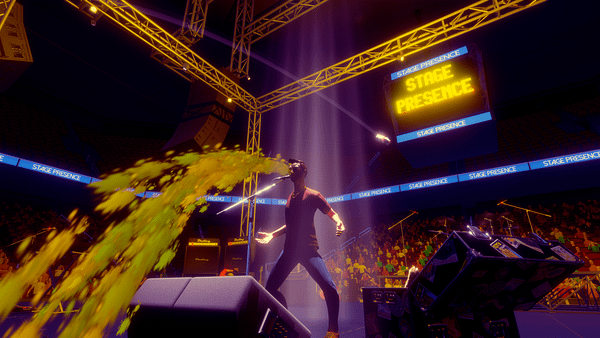 Stage Presence is fun, but it loses it's charm real quickly and it can be beat in a matter of hours. The only saving grace for the game is the online multiplayer and that you can perform with friends and get some extra mileage out of it at parties, especially drunk parties where they're bound to screw up. There's VR capabilities, but that's more of a side attraction than a must-play ability. It's not a terrible game, but it isn't what I would call one of tinyBuild's strongest games. Get it if you enjoy singing and need a party game.
[rwp-review-ratings id="0"]
[rwp-review-form id="0"]