"Star Trek: Picard" Uniforms Have Been Added To "Star Trek Online"
Would you like your Star Trek Online characters to have the future Starfleet uniforms from Star Trek: Picard? It has happened! Perfect World Entertainment and Arc Games announced on the game's website today that the uniforms you see in the series are in the game, complete with the future communicators. All you have to do is log in and claim them, absolutely free. You can read a little more about them below, but we do know they won't be made free in the game for long. So best get into Star Trek Online and claim them while you can!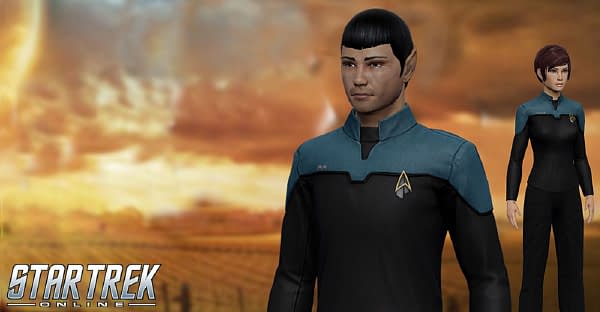 It's almost time for our 10th Anniversary Celebration to begin, and today is a very special day in the Star Trek fandom. Today, Captain Jean Luc Picard returns to the screen, after eighteen long years away. We want to celebrate this moment with you, Captains, which is why we're releasing the uniform of 2399 – the year Star Trek: Picard is set in – to you, for free, right now. Just log into the game to claim your prize. This will be available for a limited time, and we'll let you know in advance when it's going away. The uniform also comes from a brand new Combadge for 2399 Starfleet officers. Outfit your Captains and your bridge officers, and take to the stars in honor of this brand new era of Star Trek.