Fantasy Flight Games has announced some huge news: the big ships are coming back to the game, after being absent from battlefields since the launch of the second edition of Star Wars: X-Wing.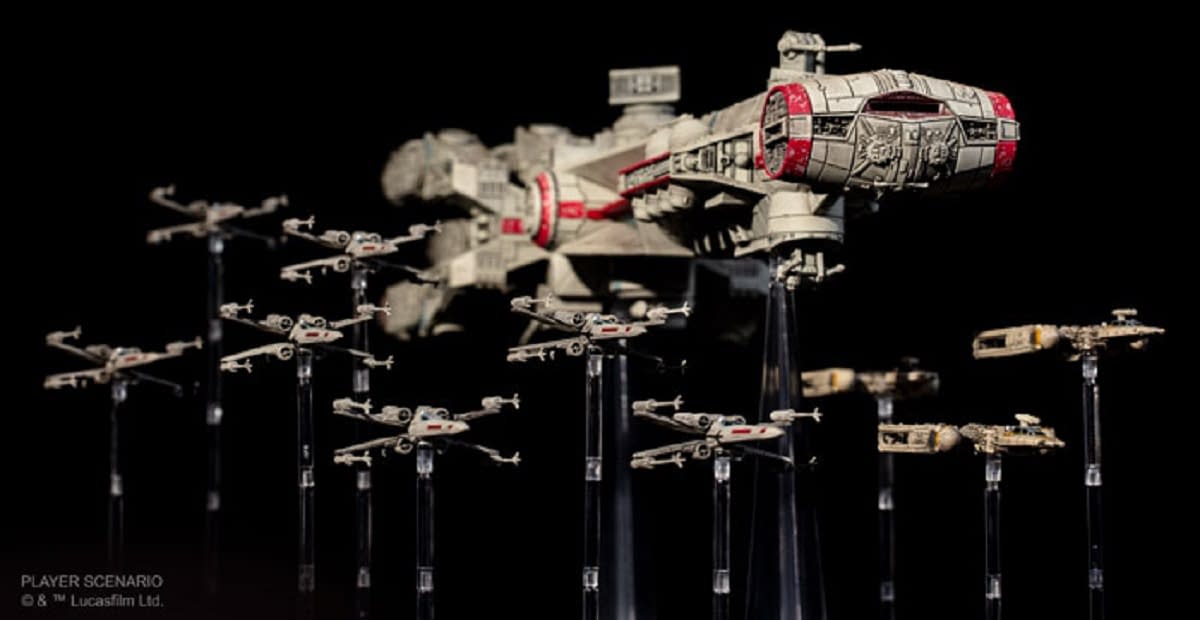 Three new expansions have been announced: The Huge Ship Conversion Kit, the Tantive IV Expansion Pack, and the C-Roc Cruiser Expansion Pack. Each of these expansions will bring a whole new world of possibilities to your game of X-Wing!
These expansions put devastating new options for your starfighter squadrons at your fingertips, letting you conduct deadly electronic warfare and unleash barrages of powerful turbolaser or ion cannon fire as you bring the full weight of the largest X-Wing ship class to bear against your opponents. The largest ships available in X-Wing, huge ships can be used during casual games of X-Wing, and they're also great when used in conjunction with the Epic Battles Multiplayer Expansion.
The Huge Ship Conversion Kit will have all of the components that you need to bring any of the large ships you might already have from the first edition of X-Wing, like the CR-90 Corellian corvette, C-ROC cruiser, Gozanti-class cruiser, GR-75 medium transport, and Raider-class corvette, and have them battle ready for second edition. You'll get the cards you need to pit these massive ships against each other for either the Rebel or Imperial factions.
The Tantive IV Expansion Pack includes one CR90 Corellian corvette, one of the most iconic ships in Star Wars history. The up-side for this new ship is that it can be fielded by both Rebel Alliance commanders or Galactic Republic players. You'll find your standard assortment of cards and tokens, plus a massive ship maneuver tool and a big ship damage deck.

The C-ROC Cruiser Expansion Pack will add a ton of pain for the Scum and Villainy factions in X-Wing, with Separatist Alliance players being able to field one as well. The C-ROC Cruiser has a bunch of dirty tricks that can be deployed against its opponents, plus the standard assortment of crew cards, tokens, dials, and upgrades.

I'm not entirely sure if there is anything new to the sculpts for these second edition ships, but I have noticed some minor differences for some of the new ships released, like poseable wings on the X-Wing and B-Wing fighters. Those are little touched that make my inner nerd scream for joy, so don't be surprised if a radar dish or two can turn on these new models.
Look for the Huge Ship Conversion Kit, Tantive IV Expansion Pack, and the C-ROC Cruiser Expansion Pack for Star Wars: X-Wing during the last few months of 2019— your favorite local game store should be able to reserve your copy now!
Enjoyed this article? Share it!