Stern Pinball Announces James Bond 007 60th Anniversary Cabinet
Stern Pinball revealed a brand new rare anniversary pinball table this week with the James Bond 007 60th Anniversary cabinet. This is basically going to be a dream purchase for those who love the long-running spy film franchise, as they have done their best to pay homage to every incarnation and film since 1962. The cabinet has been decorated with movie posters, giving an iconic look to the main screen with all six actors to have played the role, and even plated and stamped with an official numbered plaque to let you know which one you have. Here's the official description from Stern.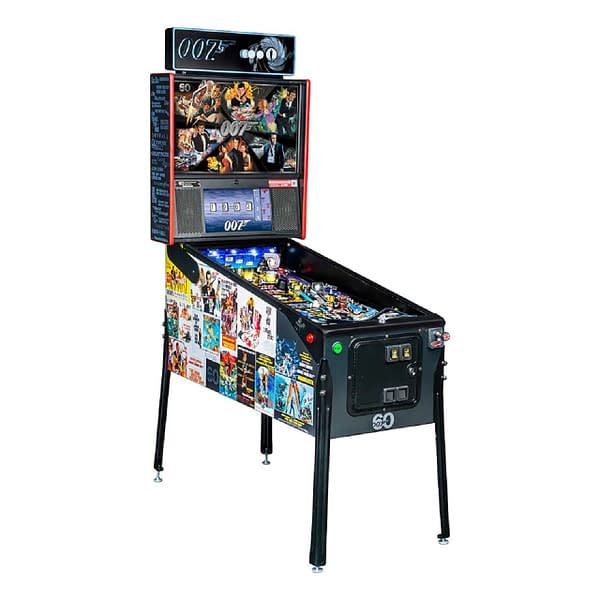 "The iconic, genre-defining franchise has been immortalized by Stern and features all six iterations of Bond over 60 years. The highly collectible James Bond 007 60th Anniversary Limited Edition pinball machine highlights the entire series of 25 films, all James Bond actors, villains, and henchmen. Players will experience James Bond's most famous assignments in this action-packed pinball adventure, immersed into the world of espionage, tackling assignments, teaming up with key allies, and stopping villainous schemes."
There's a lot of detail that went into this table that fans should appreciate, including having things like Oddjob's hat sitting in the middle of the table, diamonds decorating many of the bumper slots, an array of villains from each of the Bonds, a bunch of little gadget references from Q, and more. There are two different versions of the table that you can pick up as there is the Standard version most everyone will be able to get their hands on for personal use and business, and then the Limited Edition (which they're only making 500 of) for the true collectors. While an official price has not been attached to either, the speculation is that they will be sold for roughly $20k a piece, which is steep as hell for a game that doesn't look too sophisticated. We'll see what happens when they eventually reveal a release date