StreamElements has announced today that they have formed a new partnership with Wizards of the Coast to forge the Magic: The Gathering Creator Program. The program will be using StreamElements' SE.CAP system, which will allow them to manage and grow their influencer program across YouTube, Facebook, Mixer, Instagram, and Twitch. The program is now open to applications from streamers in North America and Europe, which will soon have a number of challenges for those who take part in it. Here's a few quotes from the announcement this afternoon.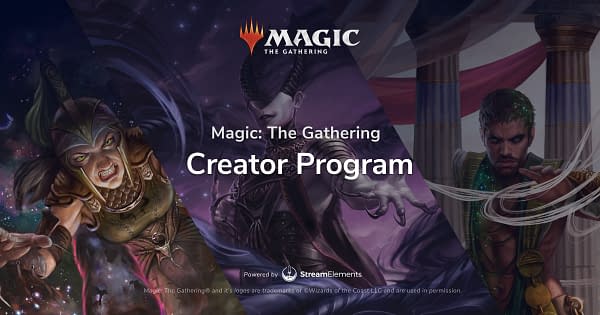 "Our goal with SE.CAP is to help brands run end-to-end creator programs regardless of the platform or format," said Doron Nir, CEO, StreamElements. "If a brand already has an influencer program, they're doing the work, but lack the interface and support we're offering that is needed to effectively manage a campaign to completion. This is because SE.CAP goes beyond the standard curation and outreach functionality by providing rich tools for deployment and measurement. The result is the most comprehensive integrated influencer marketing platform to date."

"When it came to a platform to debut the new Magic: The Gathering Creator Program, StreamElements was the perfect choice for a partnership," said Aland Failde, VP of Marketing, Wizards of the Coast. "Our team here at Wizards has worked tirelessly to build this program with StreamElements in order to serve and expand the dedicated community of Magic: The Gathering content creators, and we can't wait for all of them to experience the full depth of the Magic: The Gathering Creator Program through SE.CAP."

"Wizards of the Coast is one of the most forward-thinking brands in the games industry which they've continued to demonstrate year-over-year," adds Nir. "Last year, they were the first to deploy a global trailer launch on Twitch using our cloud-based technology, and now they are the first to use SE.CAP, our creator activation platform, to manage the content creator process surrounding Magic: The Gathering. The gaming and livestreaming industry is continuing to grow at an incredible rate, so being an early adopter of the latest technology to keep pace with it should be the focus of every brand."
Enjoyed this article? Share it!