Yomuneco Inc. announced this past week that Swords Of Gargantua will be getting a fresh new update called the Tesseract Abyss. The update will give you a brand new adventure mode as well as different ways to level up and expand your character for greater challenges. You can check out more details on the VR content coming your way here as well as a new trailer highlighting some of the additions. The update will be released to Swords Of Gargantua on December 5th.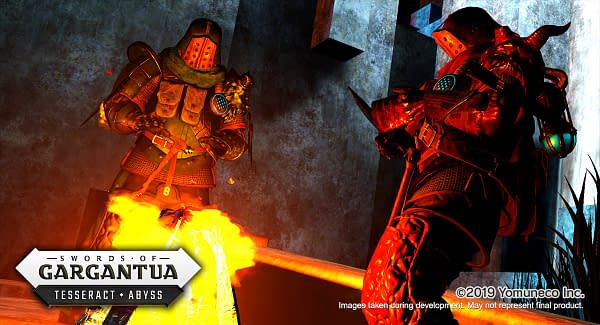 Introducing Adventure Mode: Tesseract Abyss
Tesseract Abyss puts players into the deepest layers of the 4D space known as the "Tesseract". By using weapons and coins earned by playing this mode, players will be able to continue into the abyss, gradually becoming stronger through equipment and abilities.

Level up your character!
Player rank goes up as your performance does. As your rank increases so do abilities of your choosing.

Become stronger through your abilities!
You can use your earned coins to strengthen your abilities, such as overall HP or your strength.
Therefore, the more you play Tesseract Abyss the further you can progress!

Increase your strength through weapon smithing
You can combine duplicate weapons to make stronger versions of themselves. Depending on your strategy, you can collect and strengthen a lot of weaker type weapons or earn more powerful weapons later on and speed up the process.

Give yourself a temporary boost through artifacts
Artifacts are consumable items that players can purchase for temporary buffs, such as strength or health boosts. You can purchase with your coins and bring them into battle.

Carry items with you into the abyss
Bring your items and weapons into battle! Up to four weapons and/or artifacts can be brought into battle.
Enjoyed this article? Share it!