Tera and PUBG Will Start a Collaboration Event on March 5th
This morning, En Masse Entertainment announced that Tera and PUBG will begin a collaboration event on March 5th with both appearing in each other's games. Essentially most everything you'll see is cosmetic, but you'll be getting a taste of Tera-themed drops and jeeps as well as some skins in PUBG, while Tera will be seeing PUBG-themed pets and other additions come to their game. The entire event will last a solid month with new items being able to be collected in both games every day. You can see more in the trailer below!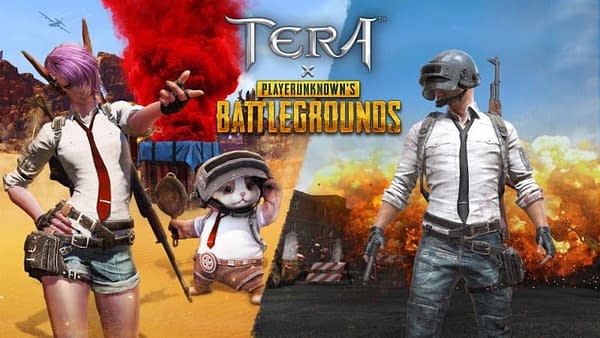 Tera players can look forward to dropping-in and engaging PUBG-style BAMs. Additionally, Tera x PlayerUnknown's Battlegrounds will bring the chance to earn and unlock exclusive themed cosmetics and pets, and En Masse Entertainment will be running daily login bonuses for the duration of the limited-time crossover.

With decorative jeeps and planes littering the landscape around Highwatch, Tera players will need to keep their eyes peeled for PUBG-themed consumables and air drops. The collaboration will have Tera players traversing the map, navigating dungeons, searching for vehicles, zeroing-in on BAMs, and flexing their skills to bring home the chicken dinner.