Digital Extremes showed off the first look of Atlas Prime this week as the character will be arriving in Warframe shortly. Atlas has been in the game for nearly four years now, this guy is basically a brute titan who uses his size and strength, along with rocks, to be a mighty force. We have the finer details here of the next addition to the game, along with a trailer to show it off. You can learn more about it through the Prime Access here as well.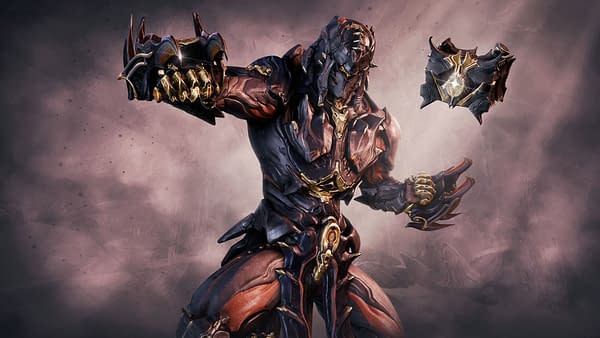 Atlas Prime will be the 26th Prime Warframe added to the game and the 67th Warframe overall.

Atlas Prime Access:

Atlas Prime: In bygone ages mountains were said to house warriors. In this age the mountain has become the warrior: Atlas Prime. Featuring altered mod polarities for greater customization.
Atlas Prime Glyphs: Embody Atlas Prime with these Prime Glyphs.
Tekko Prime: As merciless and indestructible as Atlas Prime himself, Tekko Prime crush and split with tectonic force.
Dethcube Prime: With 'Assault Mode' and 'Vaporize' as default precepts, Dethcube Prime is the apex of lethal support. Comes loaded with Deth Machine Rifle Prime weapon.
Deth Machine Rifle Prime: Signature default weapon of Dethcube Prime.

Atlas Prime Accessories:

Massif Syandana: The signature Syandana of Atlas Prime.
Orcus Prime Accessories: Attachments for your Sentinel pet
7-Day Mod Drop Chance Booster:  New to Warframe, the Mod Drop Chance Booster doubles the chance of mod drops.
90-Day Credit Booster
90-Day Affinity Booster

A Prime Warframe, weapon, Sentinel or accessory represents technology as it was during the height of the Orokin Era. The Prime Access program introduces rare versions of characters, weapons and accessories that boast superior performance and other advantages throughout the Origin System. Due to its rarity, Prime technology is coveted throughout the Solar System.
Enjoyed this article? Share it!