The Cards Of Pokémon TCG: Sword & Shield – Fusion Strike Part 16
The Pokémon TCG has outdone itself with its latest release, Sword & Shield – Fusion Strike. Fusion Strike, which was released in November 2021, is the largest expansion that the Pokémon TCG has ever released with a whopping 264 cards before Secret Rares. The set is partly based on the Japanese expansion Fusion Arts but also adapts several key Japanese promo cards as well as cards from sets like Eevee Heroes that were left out of that set's English equivalent, Sword & Shield – Evolving Skies. Sword & Shield – Fusion Strike is notable for its focus on the Mythical Pokémon Mew and Gengar VMAX, as well as its introduction of a new Battle Style to the competitive TCG with Fusion Pokémon now joining Rapid Strike and Single Strike. Now, let's take a journey through the best cards in this staggeringly large set of Pokémon cards.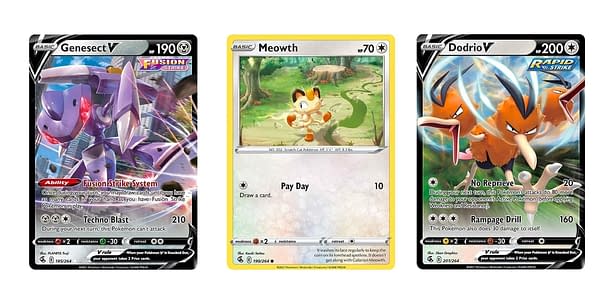 Genesect V: With Mew and Gengar sharing Genesect's role of set mascot, this Steel-type Mythical Pokémon isn't getting much love for its role in Fusion Strike. I personally think Genesect has some great cards in the set with a Full Art that has one of the most creative backgrounds we've seen and a hilarious Alternate Art that shows it breakdancing. The standard Genesect V pictured above, though, is probably the most action-packed card in the set, with the 3D art style used well to make this species look like a lab-created force to be reckoned with.
Meowth: See that trail of green paint? This stylized Meowth connects to multiple other cards, as the Smeargle from Sword & Shield – Evolving Skies was the one who painted this trail. I consider Evolving Skies to be a contender for the greatest Pokémon TCG set of all time, but I am critical of this card being pulled out of that set and put in here. Both cards were together in the Japanese set Eevee Heroes and it seems short-sighted to put connecting cards in entirely different sets. This is especially true considering Evolving Skies is considered to be a spiritual sequel to Roaring Skies which is known for its connecting artwork on its Meowth and Inkay cards. Still, I'm glad to see this Meowth finally show up.
Dodrio V: I love when an unlikely Pokémon gets an amazing V. Dodrio has never looked more intimidating than this overdue Ultra Rare!
Next time, the spotlight on Pokémon TCG: Sword & Shield – Fusion Strike continues with more cards from the set. You can follow this spotlight series by clicking our Fusion Strike tag.