The Cycle: Frontier Reveals New Monster Coming For Season 3
Yager has shown off a preview of what's to come for Season 3 of The Cycle: Frontier as a brand new monster has been revealed.
---
Developer and publisher Yager has revealed a whole new monster coming to The Cycle: Frontier as Season 3 is on the horizon. The team has shared its first look at a brand new upcoming PvE monster, which they are calling The Howler. This will be the first official flying enemy to land on Fortuna III, as it will make the planet a lot more hostile for people on the planet and increase the overall danger for the habitat overall. You'll be charged with sending in Prospectors to battle for survival against this new beast, and as you can see from the image below, that's a hell of a task to take on. We have the latest trailer and info on it for you below as Season 3 will launch for the game on March 29th, 2023.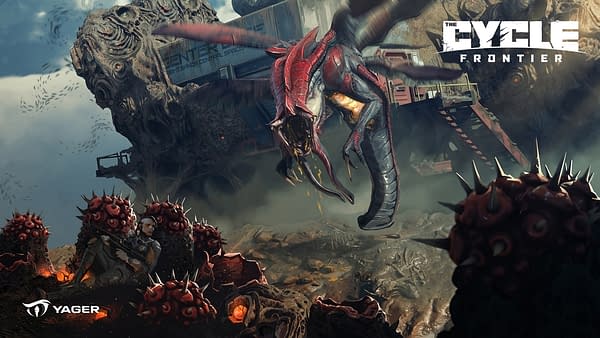 "The flapping wings and chilling screams of The Howler can be heard from a safe distance, but Prospectors are never truly safe from this terror of the sky. If they aren't careful, a Prospector can attract The Howler's attention and be forced to face off with a massive airborne challenge. Only one Howler can be active on the map at a time, but even the most vigilant Prospectors can become its unwitting prey. If you're unfortunate enough to face The Howler, take precautions because, at 50% health, this monster is known to use its special Howl Attack, which will affect everyone in the line of sight before turning into an even more reckless and aggressive monster to fight. If a team can defeat the winged monster, they will be rewarded with valuable items like Howler Darts, Howler Honey, and, if they are super lucky, Howler Syrinx. Season 2 is currently underway with "The Depths of Tharis Island," including new campaign missions, gear perks, the New Fortuna Pass, and a variety of general game, balance, and anti-cheat improvements for The Cycle: Frontier."