Lionsgate and Epic Games have finally unleashed their John Wick collaboration event for Fortnite today. The Fortnite X John Wick event was teased way back in February, and as always, the crossover comes with a limited time game mode a free challenge so players can pick up some John Wick themed rewards. For those who would rather look like the character, the Fortnite shop also has the John Wick Set available for purchase, which includes the John Wick Outfit and Simple Sledge Pickaxe.
The time limited event is called Wick's Bounty and is available now. By completing the Wick's Bounty challenges, players can pick up the Gold Coin Back Bling, One Shot Glider, and the Boogeyman Wrap. The Simple Sledge Pickaxe and John Wick Outfit are available for purchase only.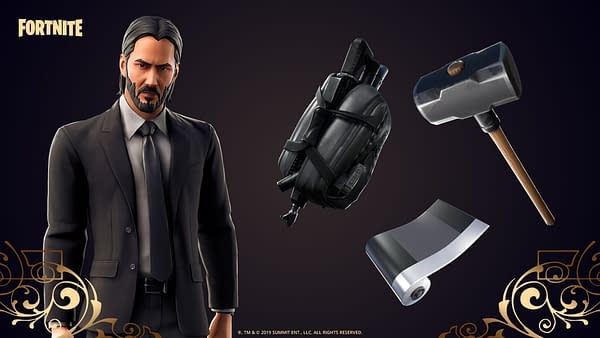 The way the Wick's Bounty limited time event works is that players in solo, duo, or squad mode will collect coins for each elimination that they have. The first player/duo/squad with 1,000 coins wins the match.
The full rules for the Fortnite X John Wick mode read:
Solo/Duo/Squads.

Eliminating a player awards one gold coin for every elimination they have + however many bounty points the target had.

Top three coin leaders are displayed on a HUD scoreboard (Bounty Leaders).

250 coins

Coin leaders have a gold/silver/bronze #1/2/3 icon over their heads

400 coins

Coin leaders can be seen on the map/compass when they are nearby and moving or shooting.

600 coins

Coin leaders can be seen by everyone on map/compass when they are moving or shooting.

Coin leaders will have a gold/silver/bronze glow around them

Once a player crosses the last point threshold, they will remain on the map and have the alt Wick skin for the rest of the match, even if they lose the point lead.
First to 1000 tokens wins the match.
You can check out the event trailer for "Wick's Bounty" below.
Enjoyed this article? Share it!