The Mega Man X Series Is Getting A Vinyl Soundtrack
Capcom and Laced Records announced this morning that the entire Mega Man X collection would be getting a vinyl soundtrack release. This is going to be one hell of a collection for fans of the franchise as this will span all eight games from 1993 until 2004. Officially being called the Mega Man X 1-8: The Collection, this will be a deluxe eight-disc box set featuring 210 tracks from the series. The collection itself will run you $145 total, which you can currently pre-order as it will ship sometime in September 2020. You can read more about the collection below, as well as check out the amazing artwork for the cover and the records themselves, plus all the sleeves that will take you back through time and remind you of the highs and lows of the entire franchise.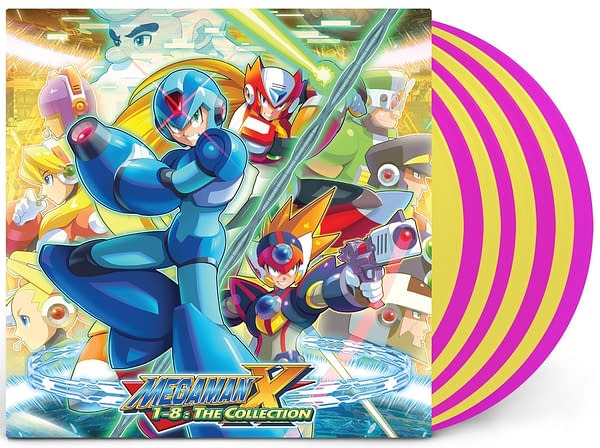 Launched on the Super NES as the gaming world transitioned from 8-bit to 16-bit consoles, the Mega Man X series introduced more mobility to the action-platforming series, as well as new plotlines and characters including X, Zero, and Axl.

Composers include Setsuo Yamamoto (Mega Man X), Yuki "Sato" Iwai (Mega Man X & Mega Man X2), Yuko Takehara (Mega Man X), Makoto "Tomozou" Tomozawa (Mega Man X), Kinuyo Yamashita (Mega Man X3), Toshihiko Horiyama (Mega Man X4), Naoto Tanaka (Mega Man X5) and Akemi Kimura (Mega Man X6, Mega Man X7 & Mega Man X8); Yuko Komiyama, Shinya "Midnight" Okada and Seiko Kobuchi (Mega Man X7 & Mega Man X8 as 'Capcom Sound Team'); Makoto Asai, Teruo Konishi, Shuichi Mizohata, Noriyuki Iwadare and Takuya Miyawaki (Mega Man X7 as 'Valuewave'); and the music of Yasuaki "Bun Bun" Fujita and original Mega Man composer Manami Matsumae.

Every track for the Mega Man X 1-8: The Collection has been remastered specifically for this release and will be pressed onto eight audiophile-quality, heavyweight 180g vinyl LPs. These come packaged in deluxe spined inner sleeves, housed in a luxury rigid board slip case. The box set features brand new original artwork by illustrator and Mega Man maven UltimateMaverickX.