The Terminator Makes His Glorious Appearance In "Mortal Kombat 11"
This morning, NetherRealm Studios and WBIE unleashed the latest Mortal Kombat 11 DLC character trailer, as we get a good look at The Terminator. He may not be voiced by Arnold, but this is the version we all know and love from its appearance in Terminator: Dark Fate, coming out on November 1st. However, this DLC will drop next Tuesday, October 8th, giving fans a chance to play him before the film arrives. You can watch the ultimate cyborg assassin tear opponents apart in the trailer we have for you below, along with a fatality that will get your jaw dropping. We also have info below, as well as some pics, of new skins coming to the game with this next DLC update, along with new game modes on the way. Looking forward to playing that new Cassie Quinn skin.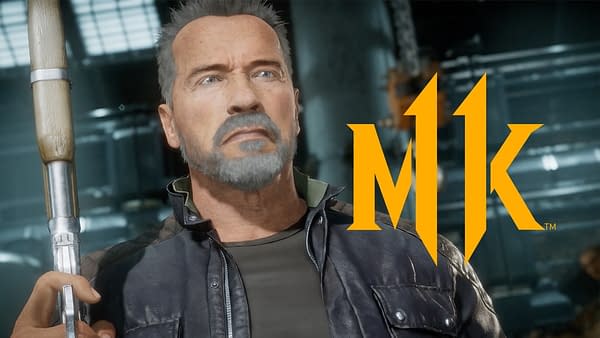 Kombat Pack owners will also have access to new character skins (available Oct. 8), including:

Alternate Terminator T-800 character skins.

New Cassie Cage ("Cassie Quinn") character skin inspired by DC villain, Harley Quinn.

Double Feature Skin Pack, featuring new character skins for Sonya Blade ("Cyborg Hunter"), Kano ("Cash Machine Kano") and Johnny Cage ("Red Carpet Johnny Cage").

Additionally, all Mortal Kombat 11 owners have access to current and upcoming free content updates, including:

Added Tournament Variation (available now) – Third tournament variation added for all characters, which can be used in Kombat League, offline Tournament mode and any match with Kompetitive mode enabled.

Kombat League Season 4 (available now) – Next installment of the seasonal ranked mode, entitled the "Season of Chaos," is available now, allowing players to compete against other online Kombatants to earn exclusive in-game rewards.

Team Raid (coming soon) – New multiplayer Tower coming soon to the Towers of Time mode, where two or three players must work together as a team to complete group challenges and defeat one powerful boss, all at the same time, to earn unique in-game rewards.