THQ Nordic Announces Its Full Gamescom 2018 Lineup
More and more companies are revealing what they have on the way for Gamescom this year, and today we get a look at what THQ Nordic is bringing. Right now, the list of games they'll be bringing to Cologne, Germany are Darksiders III, Biomutant, Generation Zero, Fade to Silence, Townsmen VR, and Wreckfest. Honestly, none of these were that great of a surprise, except for Darksiders II, which we didn't have a release date for until last week, so the probability of it coming to any convention was up in the air until recently.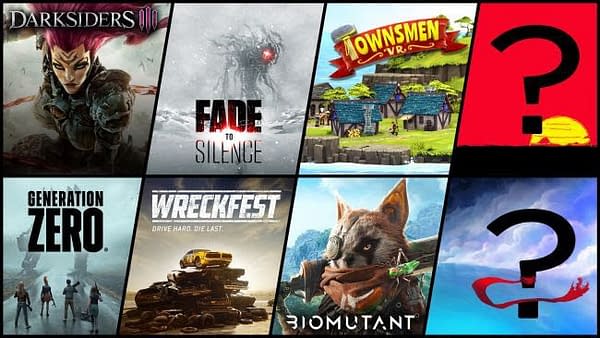 The more intriguing piece to this puzzle, as you can see from the image above, is that THQ Nordic has only announced six titles but promised to bring eight games. There's not really a lot we can determine from the two images above, with a setting sun in one and a scarf attached to the question mark on the second. All we do know is that one will be a "world exclusive announcement which will break cover during the official Gamescom opening ceremony".
Gamescom will take place from August 21st-25th this year and will have the usual array of livestreams at the event, but we're expecting a bunch of leaks before that.