'Tiny Supers' RPG Powers Up Digital Release
The folks at Gallant Knight Games just finished fulfilling digital copies of Tiny Supers to people who backed their Kickstarter campaign, and now you can get a copy for yourself at DriveThruRPG!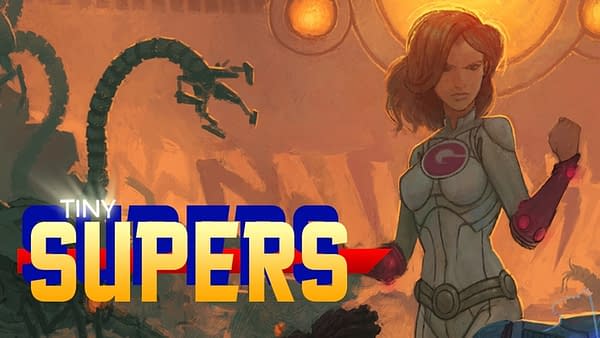 Using the rules in this book, you'll be able to play superheroes of all types, from paragons and exemplars, to super-science heroes of the future or past, to cosmic guardians defending the far-reaches of the galactic civilizations from untold threats!
Tiny Supers is part of Gallant Knight Games' Tiny d6 system of games, which provides a rich game environment with a rules-light system. This way, you can focus on playing the game and having fun instead of rummaging through pages looking for obscure rules.
Powered by the TinyD6 engine, with streamlined mechanics that utilize only one to three single six-sided dice on every action, characters that can be written on a 3×5 notecard, and easy to understand and teach rules, Tiny Supers is great for all groups, ages, and experience levels who want to enjoy fast and accessible superheroics! Characters are created quickly, with a simple power selection system designed to be fast, intuitive, and easy to understand.
I've played a couple of sessions using Gallant Knight's Tiny d6 system, and found both Tiny Frontiers and Tiny Dungeon 2E to be a really easy system to pick up, but not at the cost of cohesive rules.
While there isn't a print version of Tiny Supers available at this time, there are plans to offer a print on demand version of the book in the future.
For more on Gallant Knight Games, the state of the table top game industry, and more, check out our interview with Gallant Knight Games' Alan Bahr here.
And you can find the full catalog of Gallant Knight Games releases, including Tiny Supers, at DriveThruRPG.