Together In Battle Confirms Late April Release Date
Join the gladiatorial competition and make allies in Together In Battle, set to be released for PC in three months.
---
Indie developer and publisher Sinister Design have confirmed that they will be releasing Together In Battle for PC in late April. This one has been in the works for a while as the team has been working to make a procedural strategy RPG that incorporates elements of a team management game with procedurally generated characters. All of this is wrapped into a social sim system that has you making allies in the middle of a series of gladiatorial games. The game will officially be released on April 25th, 2023, for Steam. Until then, check out the latest trailer down at the bottom.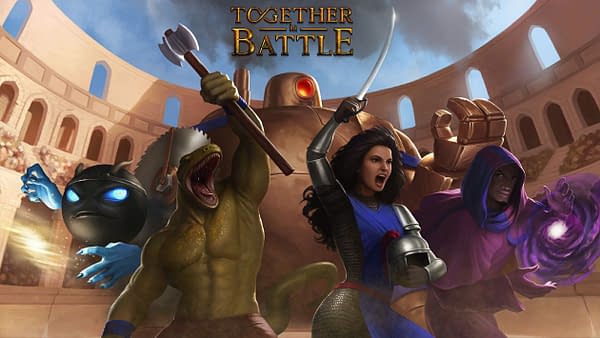 "Together In Battle is a strategy RPG and team management roguelite with vibrant procedurally generated characters and emergent relationship-building. Uncover a sinister conspiracy; fight deep turn-based tactical battles; deal with random events; watch your characters grow together. You've arrived in the island kingdom of Dese with a secret mission to enter the gladiatorial games and find loyal fighters. Hunted by an imperial praetor, you must maintain a low profile even as you find yourself drawn into intrigues that will decide the fate of Dese itself."
"Recruit and manage charming characters. Stay stocked on food, make payroll, and keep your characters practicing. But beware: they have feelings! Let their friends fall in battle, and they may become depressed. Let morale fall too low, and you'll risk resentment and desertion. Keep them happy, however, and they will grow close to one another, form fond memories, give nicknames–even share their special combat skills! With skill and patience, you will emerge victorious…together in battle. Every character you recruit has distinct traits, personal histories, beliefs, hobbies, and secrets. You'll never get the same character twice."
"These differences matter: a baker will use food to produce cookies and cakes you can eat or sell; a jokester will do funny impressions to boost morale; a hunter will boost your stocks with wild game; a blacksmith will repair the group's weapons. Dancers are nimble; sailors are good swimmers. Some characters are prone to depression; some, to self-doubt. Some self-soothe with long walks or prayer; others undertake long-term projects like growing vegetables, crafting dolls, or writing novels. Learn what makes each character tick as they grow and form powerful bonds of friendship!"