Tomb Raider Reloaded Starts Pre-Registration Ahead Of Release
Looking to play Tomb Raider Reloaded on either iOS or Android? You can now pre-register for the game on both platforms.
---
CDE Entertainment has officially started pre-registration signups for Tomb Raider Reloaded ahead of the game's release on iOS and Android. The game will be taking the classic franchise and putting its main character in a series of top-down puzzles that you'll have to solve and navigate to not only survive but to snag as much loot as possible. The game is currently set to be released on Valentine's Day, February 14th. We got more info and the latest trailer for you down below, as you can register for both platforms right now.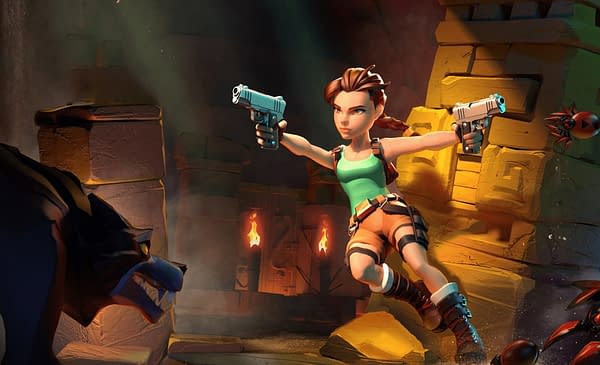 "Tomb Raider Reloaded takes players on an action-filled adventure as they jump into the boots of groundbreaking hero Lara Croft on her swan-diving, cliff-climbing, back-flipping quest to obtain the ancient Scion artifact, clearing ever-changing rooms filled with new and familiar enemies as well as hazardous traps and puzzles. Along the way, they'll acquire run-specific boosts alongside permanent rewards, like XP modifiers, runes that improve Lara's stats, and manuals used to unlock and upgrade her outfits, such as her fan-favorite bomber jacket. As players progress through each level, they can stack perks to enhance Lara's abilities, and even craft weapons to upgrade her arsenal. Reprising her role as Lara Croft is the unmistakable Keeley Hawes (Tomb Raider: Legend, Tomb Raider: Anniversary, Tomb Raider: Underworld, Lara Croft and the Guardian of Light, Lara Croft and the Temple of Osiris)."
"As the first roguelike Tomb Raider title in the franchise, Tomb Raider Reloaded takes players through iconic series locations, including the City of Vilcabamba, the Lost Valley, and St. Francis' Folly—all at the tap of a thumb. To ensure a high degree of authenticity and quality, the game has been crafted in collaboration with award-winning AAA publisher, developer, and franchise owners Crystal Dynamics, and features memorable characters from the previous Tomb Raider games, including Winston, Anaya Imanu, and the duplicitous Werner Von Croy. This connection to the series' heritage is cemented by the game's score, which includes grandiose orchestral recordings of classic Tomb Raider themes, spearheaded by GRAMMY Award-nominated and BRIT Female Artist of the Year-nominated musician Tina Guo. Adding variety to the game are daily and weekly challenges on rotation, events such as Temple of the Sun—where players stand their ground against waves of enemies—and additional modes such as Tomb Exploration that yield extra treasures for each milestone reached."