Transformers War for Cybertron: Siege TCG Set is Out Now!
Transformers TCG players sure are spoiled. The third set of cards is out now, this one based around the War for Cybertron: Siege. As collectors know, that is what the current focus of the toy line is, so tying the game into the toy line makes perfect sense. This third set features the debut of Battle Masters and Micro Masters cards, incorporating standard size Bot cards to the game. This is something we have wanted from the getgo, and as I say that it seems crazy since the game is not even a year old. Each booster pack this time includes a large Transformers Bot and a small Transformers bot, along with a package of battle cards.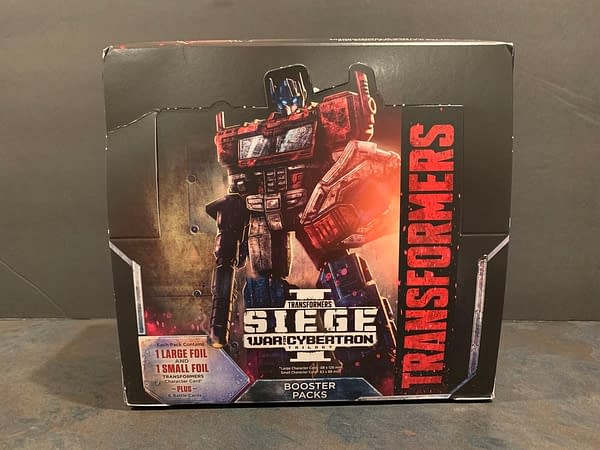 Some of the cards art of the Autobots and Decepticons are the first time that the Cybertronian incarnations have been shown for some characters. In all, this set includes 48 Bots and 64 new battle cards. Hasbro and Wizards were nice enough to send over a box for us to break and show everyone, so let's talk about what we got!
So a few things right off the bat: I think they did a great job with the packout this time. In 30 packs, I only got three doubles of the large Transformers, and only 4 doubles for the smaller Bots. These are some of the nicer cards in any set so far as well, the Combiners in wave 2 are awesome, but as far as single cards they are really stepping up their game. Many of these are the box art from the Siege figures, and it looks great all foiled out on these. Some favorites include Soundwave, Cindersaur, and my super rare Shockwave. For Autobots, it is all about Sideswipe for me, opening that card made me squeal. A good assortment of rares, commons, and a super rare made me a happy camper.
I also love the smaller Bot cards. Ravage and Laserbeak are must-haves since Soundwave is finally here. These are all instantly going in my Decepticon deck. I have love for the Autobot Transformers cards too, but since I lean on the purple side, I get more excited for them. I find that I play with more confidence when I am taking down Autobot scum.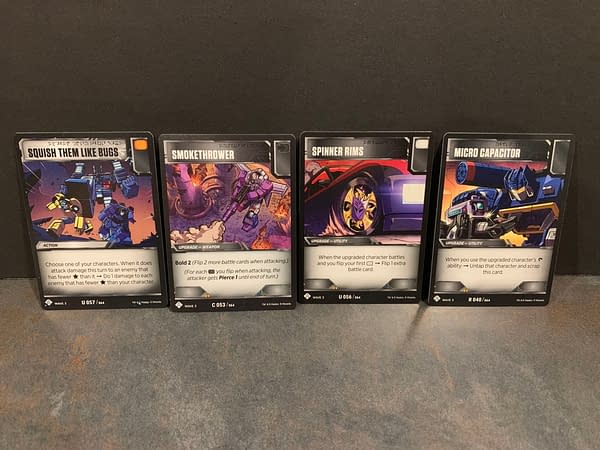 I got all 64 battle cards as well, so now the work will begin merging these in as necessary. Above are some of the cards that stuck out to me.
Overall, this is another great set for Transformers TCG players. The game is really catching on fast, and with the addition of Battle Masters and Micro Masters, game should be getting more interesting fast. You can find these in stores now. For how to play videos, checklists, and more, go here.