Review: SEGA Genesis Mini & Tower Accessories
One of the coolest items we've probably received all year came to us this month from SEGA as they sent us a SEGA Genesis Mini to review. Back in the day, when it came to most video games you were one of two kids: a Nintendo kid or a SEGA kid. I was a Nintendo kid, but my cousin was a SEGA kid. We didn't have the fights over the consoles like most remember, because we got to check out what each system had through our families. As I'm sure a lot of friends and family did with each other to see what was so great about the other side. While I always complained about the weird versions the SEGA Genesis had and the fact that the C button basically did nothing for 99% of the games we played, I couldn't deny the graphics or the speed. So now as an adult, a couple decades removed and now looking at gaming in a more analytical sense, how do I look at a product like the SEGA Genesis Mini?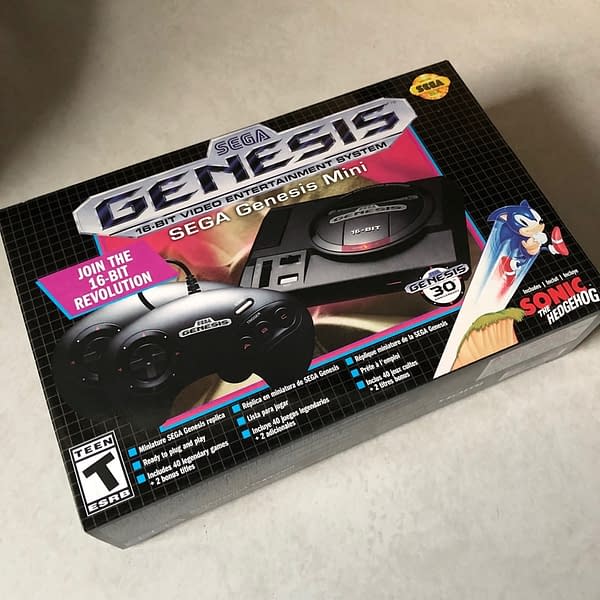 So for starters, I need to get something off my chest. This is a FAR better design and packaging and appearance than the crappy AT Games version that was licensed a few years ago. At the time we were looking at the make and model of that version, you could tell there was some effort put into it, but ultimately was a bad cash grab using SEGA's IP to make an inferior model compete with the NES Classic. Sure, you could plug Genesis games into it as well as your old controllers into what is essentially a big emulator, but that defeats the purpose of what it was created for. Here, you're getting something more like the NES and SNES Classic designs in that this is a smaller lightweight version of the original, with two cable controllers (instead of that garbage infrared version that barely worked). This one runs off a USB connection with an outlet converter, along with an HDMI cord for modern TVs.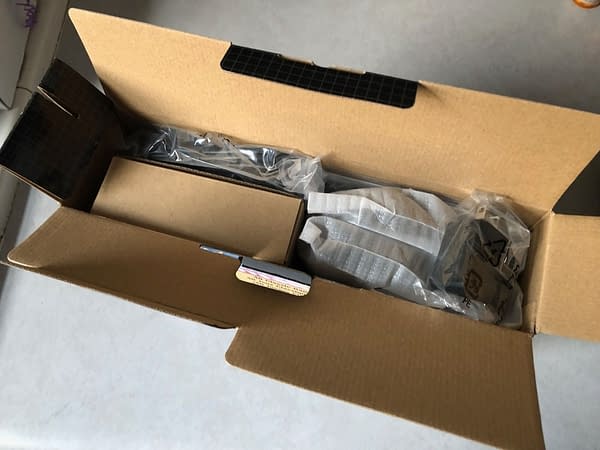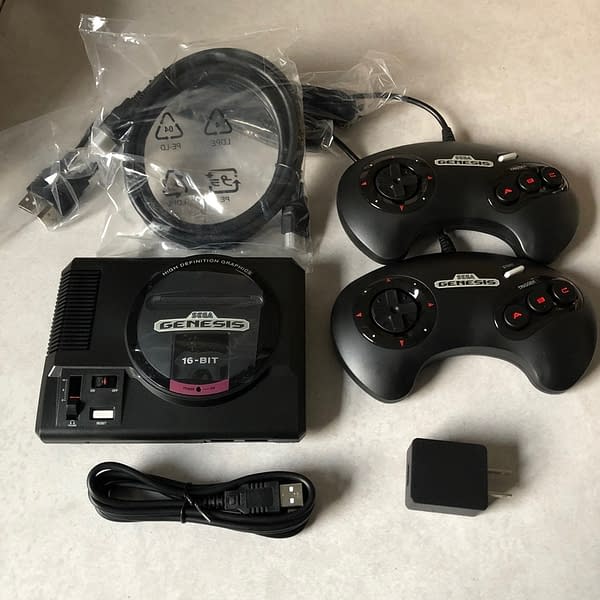 The library itself is pretty cool. You have a selection of 42 games from some of the earliest classics to hidden gems to end-of-the-line releases to pick from. Some of these are a no-brainer like Sonic The Hedgehog, Echo The Dolphin, ToeJam & Earl, Virtua Fighter 2, Streets Of Rage 2, Shinobi 3, Street Fighter 2: Special Champion Edition, Contra: Hard Corps, Ghouls n' Ghosts, Phantasy Star 4, Darius, Strider, and more. This is basically the collection of collections you wanted as a kid sitting on a shelf. A day's worth of gaming waiting for you when it was pouring rain, or stuff you and your friends could chill out and play after school. There's a lot of nostalgia and memories in these games tied to '90s gaming that it's hard not to be impressed with everything they got. You even have a couple of games that were only in arcades and never saw console, like the SEGA version of Tetris.
That being said, when you get to retro console libraries, unless you're giving people everything there is, there is never a perfect library. The SEGA Genesis Mini is missing out on some key titles that would have made this a monster retro console to own. The biggest glaring omission is Sonic & Knuckles (Sonic 3), which you would think would be an automatic thing considering they went to the trouble of putting Sonic The Hedgehog Spinball on here. Some other missing titles include Flashback, Rocket Knight Adventures, the original Out Run, Night Trap, and Alien 3. Some classic titles that people remember fondly on the console that just aren't here. So as impressive as the library is for a mini console, there are some glaring things missing from the console. But we do concede that unless you give people everything, there will always be people unhappy with what they have.
One of the bonus items we got in the mail and held off the review until now for was this wonderful little addition. The SEGA Genesis Tower Mini. If you were a kid whose parents had some cash to burn on accessories, then you may be familiar with the set of additions below. In this accessory pack, you have an attachable SEGA CD, the 32X adapter, a copy of the Sonic & Knuckles adapter, and a cartridge of the original Sonic The Hedgehog. In case you're wondering, no, none of these do anything. The best way I can put it is that if the SEGA Genesis Mini was Barbie's Dream House, then this is all the furniture you can buy for it. None of these do anything, which I'm sure will further infuriate Sonic & Knuckles fans, but this is basically window dressing for the geekiest of the geeks who loved this system.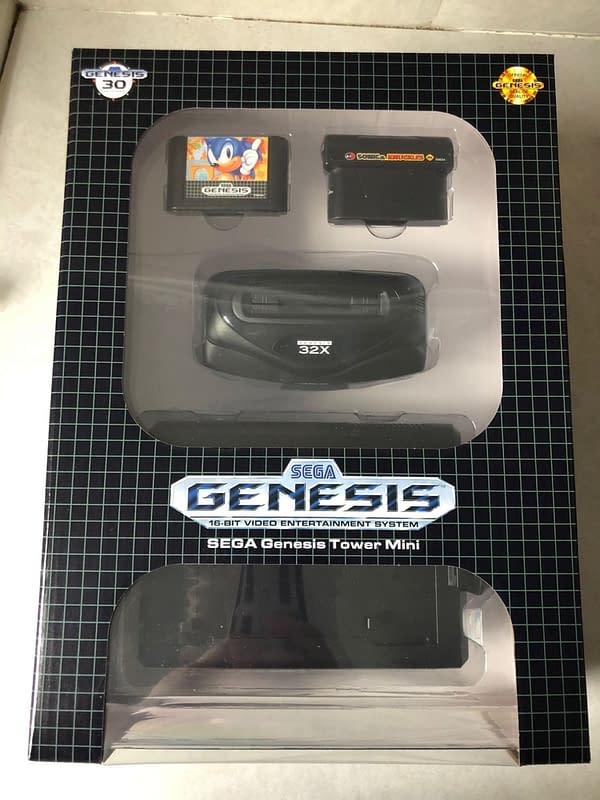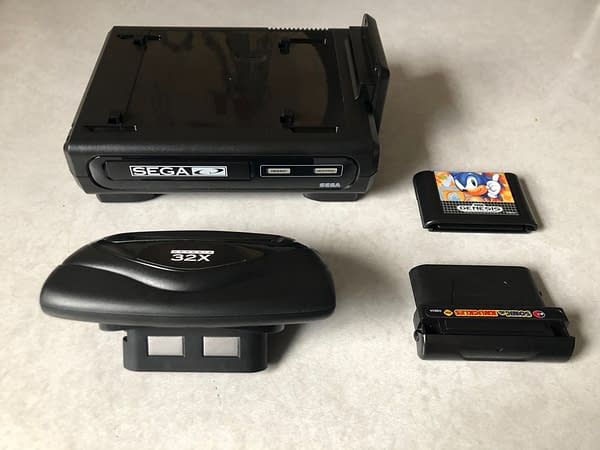 Overall, the SEGA Genesis Mini is a far better version than the previous incarnations that have ever been made of this console. You get an impressive library, you get the classic look, you get the classic controllers, and you even get some stuff that never saw the light of day beyond arcades. That being said, the library is missing some key games that would have made this the ultimate must-have. Especially since many of those games can be found on SEGA Genesis Classics. However, there are a couple that can only be found here, which puts some retro gamers in a bit of a bind if you're looking for an all-in-one stop for these titles. Ultimately, the SEGA Genesis Mini is for retro collectors and people with a sense of nostalgia. If you're just looking to play these games, you have other options. But this, much like other mini consoles, was designed for the person who wants to fully relive their past. We can't really argue with that and we encourage those seeking it to buy one. But if you don't need the physical console and just want to relive the past through ROMs and emulated titles, there are other options.