"Tropico 6" Reveals New "The Llama Of Wall Street" DLC
This morning, Kalypso Media announced a brand new DLC pack is on the way for Tropico 6, and you'll become "The Llama Of Wall Street". Basically, this is your way of becoming a billionaire tycoon in the small country you're already running. You can download the DLC for PC, PS4, and Xbox One today and start making all that sweet money. You can read more about it below and check out the trailer.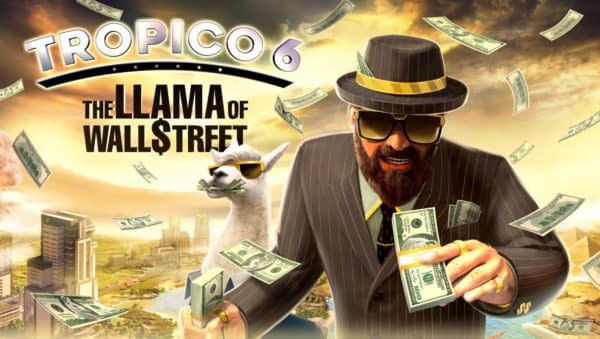 The Llama of Wall Street adds an array of new in-game features to Tropico 6 such as stock market manipulation. Using the Trade Institute building, players can directly influence the in-game economy by altering the value of goods such as shellfish, tourist fees, or even a dictator's favorite, uranium. The DLC also adds random economic events. Greased with Arabian Oil sees a hefty tariff added to goods traded with the Middle East and USA, whilst The Brink of Chaos event inflates the value of weapons, canned goods, steel and other items instrumental to surviving an apocalypse.

The Llama of Wall Street also expands on Tropico 6's existing content. Alongside the Trade Institute building, the DLC adds the industry-boosting Toy Workshop, and the Smart Furniture Studio. Check out the feature list below for a full run-down of the DLC and the Seguridad Social update.

Enter the world of big business with the new standalone mission: The Llama of Wall Street
Use new buildings the Trade Institute, Toy Workshop and Smart Furniture Studio to further your economic power
Expanded gameplay mechanics means goods are now subject to price fluctuations, trade impacts and trends. Infiltrate global markets to forecast future trends and play the markets as you see fit
Random events will pose extra challenges and have positive, negative or mixed effects on global market situations, trade or production. Keep an eye out and act accordingly
Sharpen your skills in a brand-new sandbox map
Play how you want with more edicts, traits and customization options for both El Prez and his palace.